February 2022 Cafeteria Menu Please remember that we WILL have school on Friday, February 11th, to make up for our closure last week. All meals are free to students thanks to the USDA! You can find our daily menu in the Dining section of the app and website as well!
https://www.strawnschool.net/dining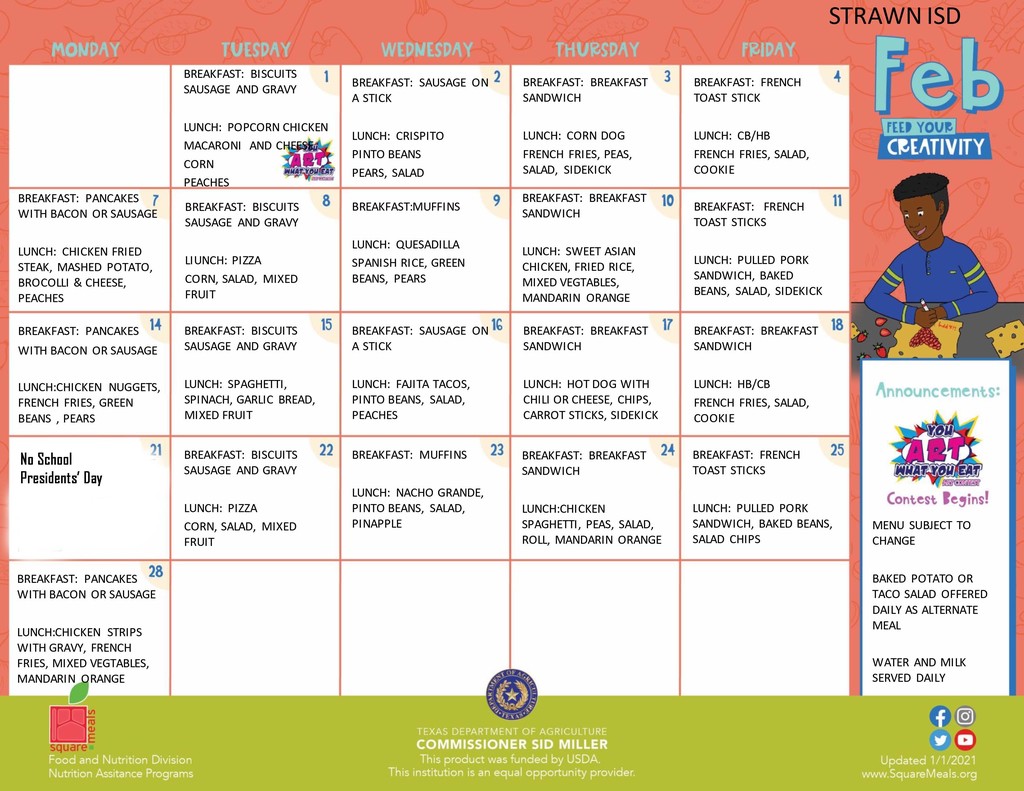 School Closing Due to Illness: Currently 25% of our student body and 30% of our staff are home sick or quarantining. To help alleviate the issue we will close school Thursday, January 20th and Friday, January 21st. These days will be made up on Friday, February 11th and Friday, April 1st. Any additional closures may result in minutes added to the school day or more days added onto the school year. Please know that closing the school is a difficult decision that we don't make lightly. We advise parents and students to keep gatherings outside of school to a minimum to help stop the spread. We look forward to seeing everyone Monday, January 24th.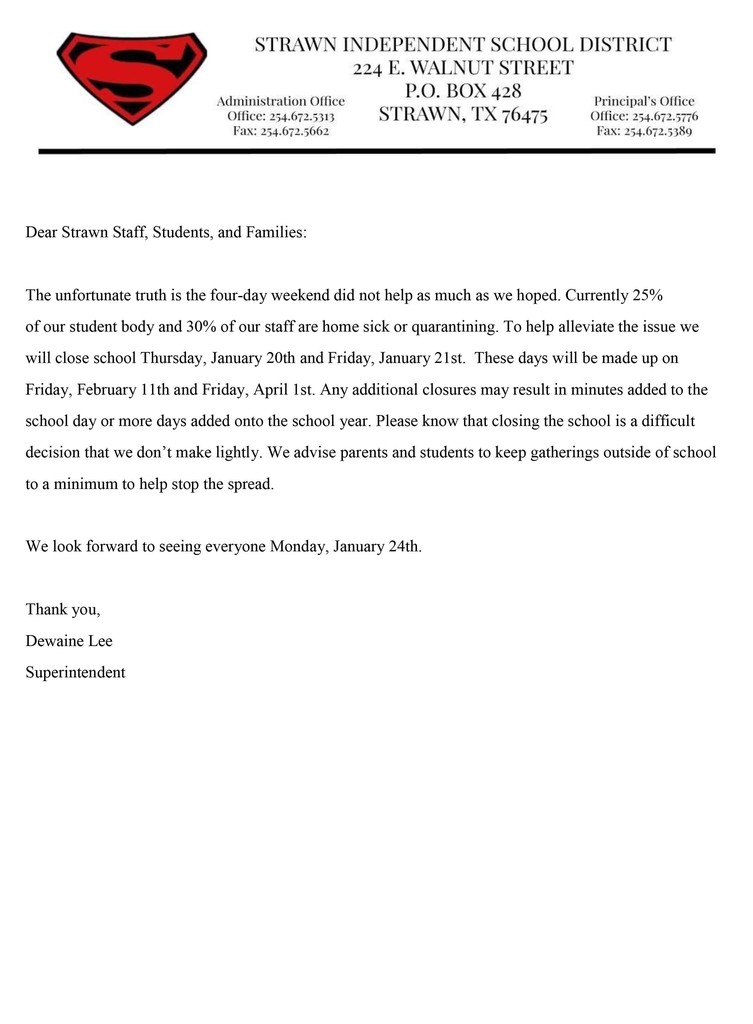 If you have any questions about the stock show, please call (254) 672-5776 to speak to Mr. Thornton. Unfortunately his cell phone is broken, but he is working to get it replaced as quickly as possible. In the meantime, you can contact him on the Strawn ISD office line.

Congratulations to Justin Patton & Brighton Newsom on their photography projects at the Palo Pinto County Fair!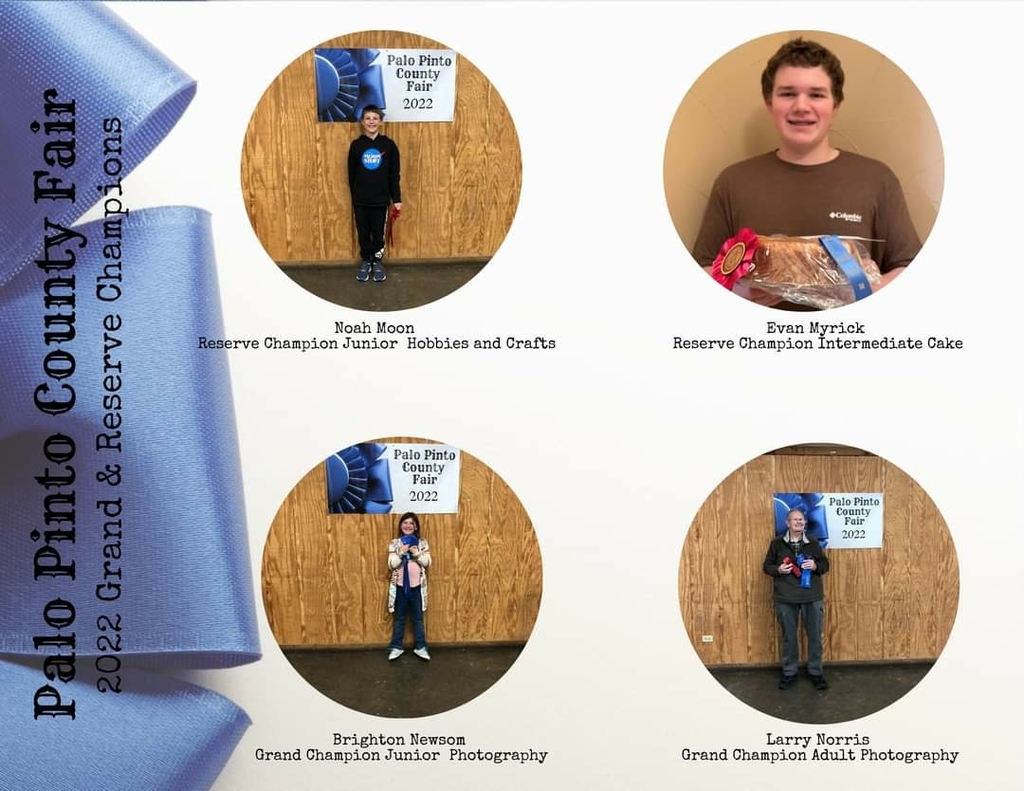 The following Varsity Basketball games have been cancelled this week and will be rescheduled: Tuesday, January 18, vs. Three Way Thursday, January 20, vs. Gorman Friday, January 21, vs. Huckabay

Due to an overwhelming number of student and staff illness, we will not have school on Friday, January 14 or Monday, January 17. The health of our staff and students is a priority to us. This will give everyone an opportunity to rest and recover. During this time, necessary measures will be taken to disinfect all school facilities. The basketball games against Gordon and Gorman that were scheduled for Friday and Saturday will be rescheduled for a later date. We look forward to seeing everyone Tuesday, January 18.

The Rotary Club of Mineral Wells will host its annual Four-Speech Contest on Thursday, March 3, 2022. The contest will take place in the Community Room of the Mineral Wells Area Chamber of Commerce beginning at 6 p.m. The contest is open to all high school students in Palo Pinto County. It is an oral competition whereby contestants deliver a speech and are judged by their incorporation of Rotary Club's four guiding principles: Is It The Truth? Is It Fair To All Concerned? Will It Build Good Will and Better Friendships? Is It Beneficial To All Concerned? At stake are scholarship prizes of $1,000, $500 and $250. The winner can advance to district competition with the chance of winning additional scholarship prizes. If you know a Palo Pinto County High School student that would like to compete, please have the student fill out the following form by clicking the link below. Questions can be emailed to Karyn Bullock at
krbullo@yahoo.com
. To sign up:
https://forms.gle/DUmwMVPmbpPwtF2R6
.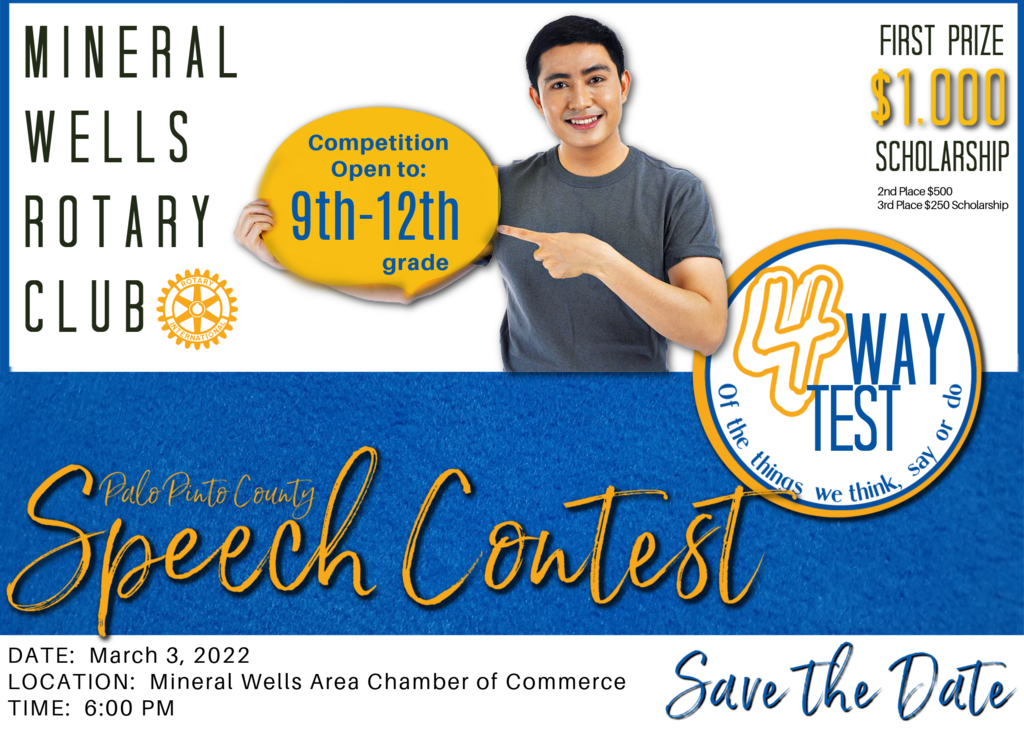 The Varsity Basketball make up games against Gorman have been scheduled for this Saturday, January 15th, here in Strawn. The girls will play at 10:00 AM, and the boys will play at 11:30 AM.

2022 Spring Stock Show Schedule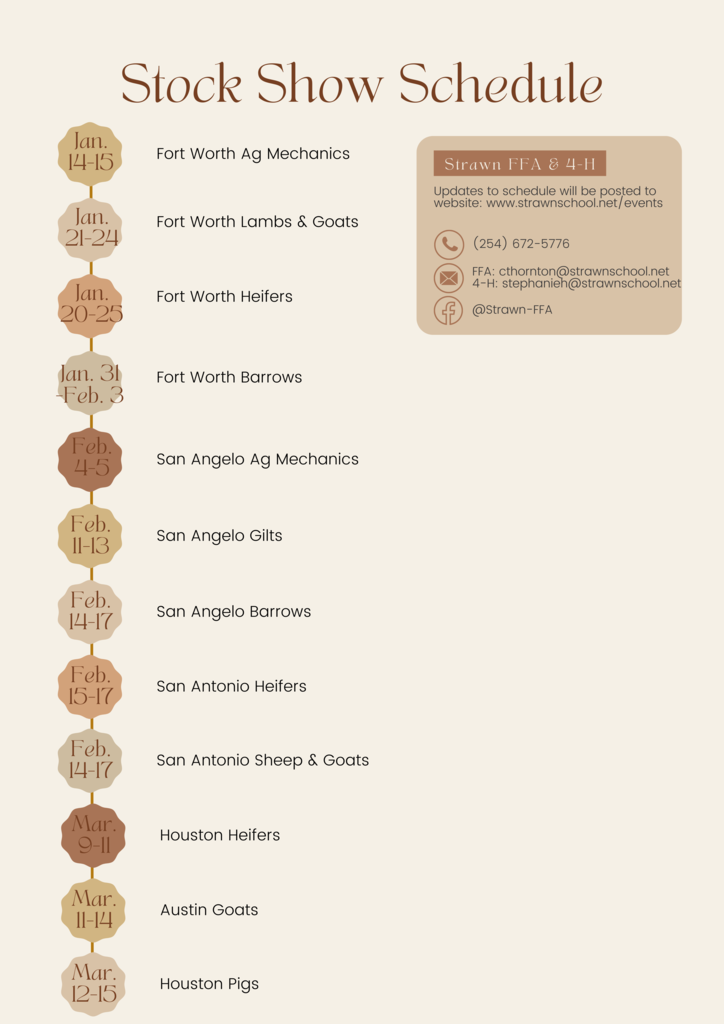 COVID Update 01-10-2022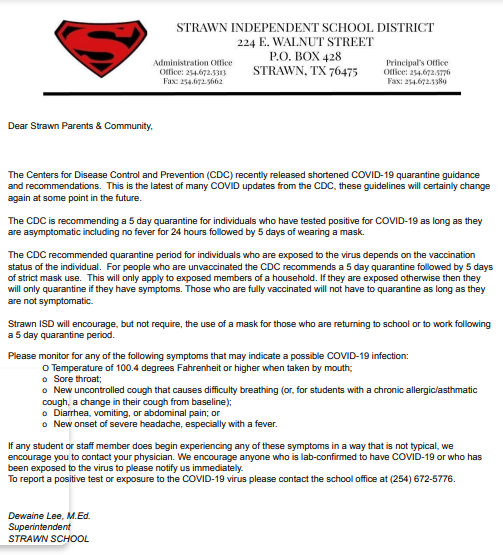 First & Second Grade set a goal of 50 AR points by Christmas. Congratulations to these readers who met and surpassed their goal! First Grade: Oliver - 70, Alan - 65, Keegan - 65, Daisy - 60, Brody - 55, not pictured is Harper with 50. Second Grade: Colt - 80, Hayes - 65, Sophia - 63, Ryann - 60, Autumn - 60, Lily - 60, Samantha- 50, Cooper - 50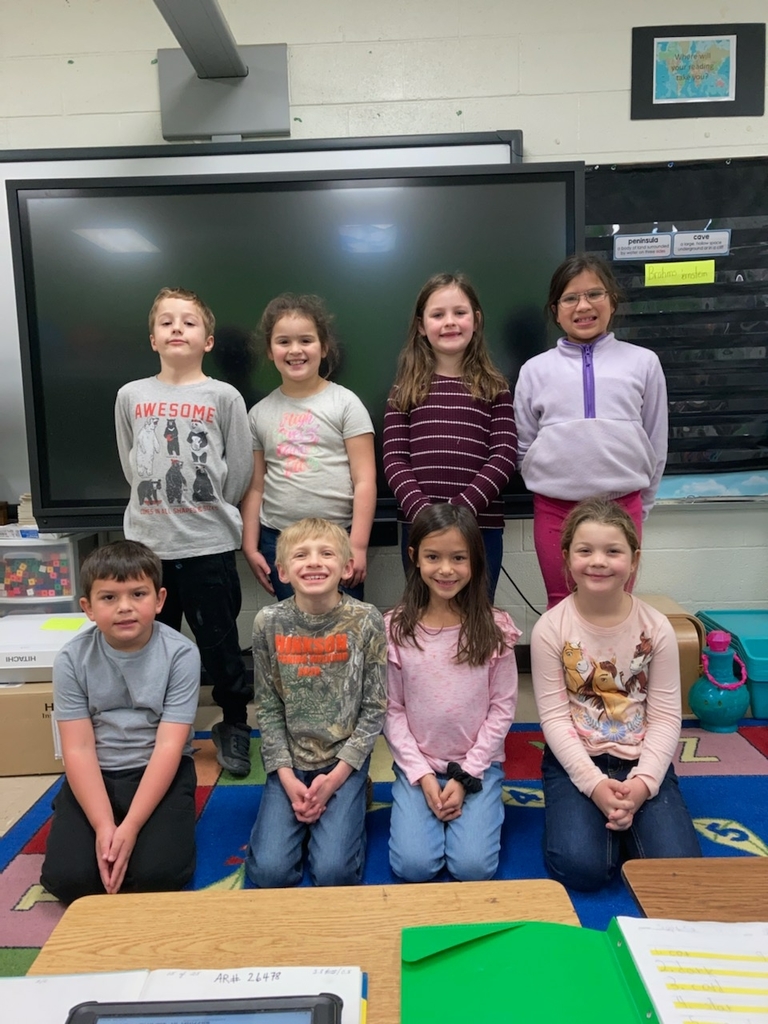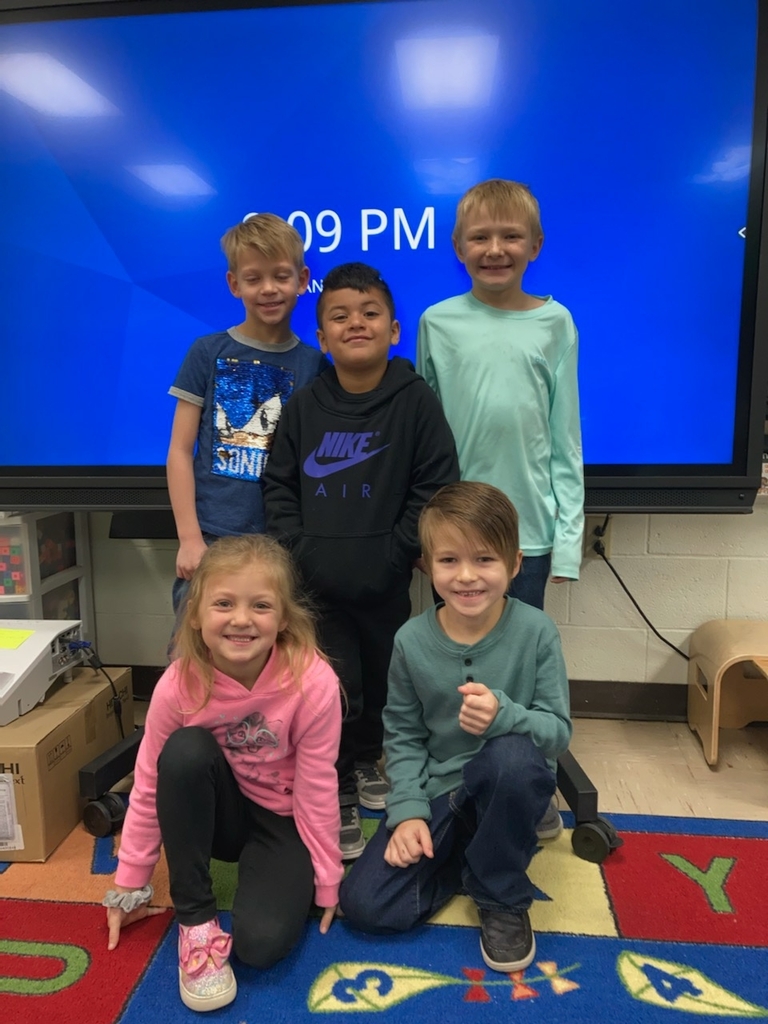 Our Greyhounds will travel to the Palo Pinto County Courthouse at 10:00 AM, Monday, January 24th, to be recognized for winning State!

STRAWN ISD celebrates School Board Recognition Month this January! January is School Board Recognition Month and Strawn ISD is honored to celebrate its trustees for their dedication and commitment to the district's schools and students.   The school board members are selfless volunteers who spend long hours working with administrators to ensure all of our students have the opportunity to learn and grow.   Board members serving Strawn ISD for the 2021-2022 school year are:   Tina Spakes, President Craig Abbott, Vice President Shannon Stoker, Secretary Brad Couger, Trustee Jessica Mallory, Trustee Chris Nunez, Trustee Brandy Sizemore, Trustee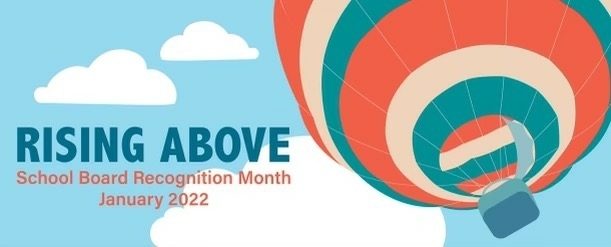 Tomorrow, January 4th, is the first day back at school! Our administrators, teachers, and staff have been hard at work today preparing for our students' return! The first bell rings at 7:56 AM with the tardy bell sounding at 8:00 AM. We can't wait to see you back on campus for class! Don't forget to bring your water bottle. Remember, we have refill stations but no water fountains you can drink directly from.

Boys and Girls basketball games against Gorman on Friday (tomorrow) Dec 31 have been canceled. Games will be rescheduled. Happy New Year.

The game for tomorrow (12/28) has been cancelled against Mt. Calm.

Game Day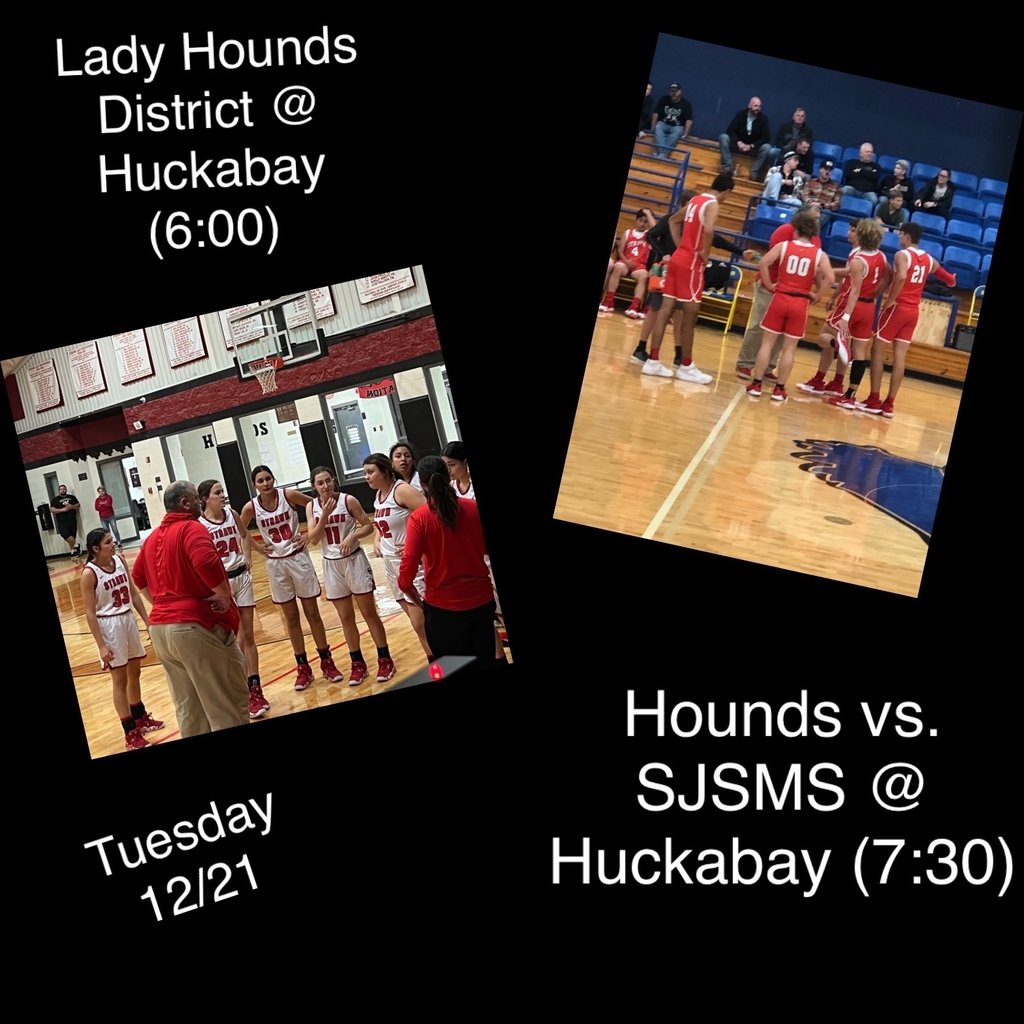 Updated Basketball Schedule & Holiday Basketball Schedule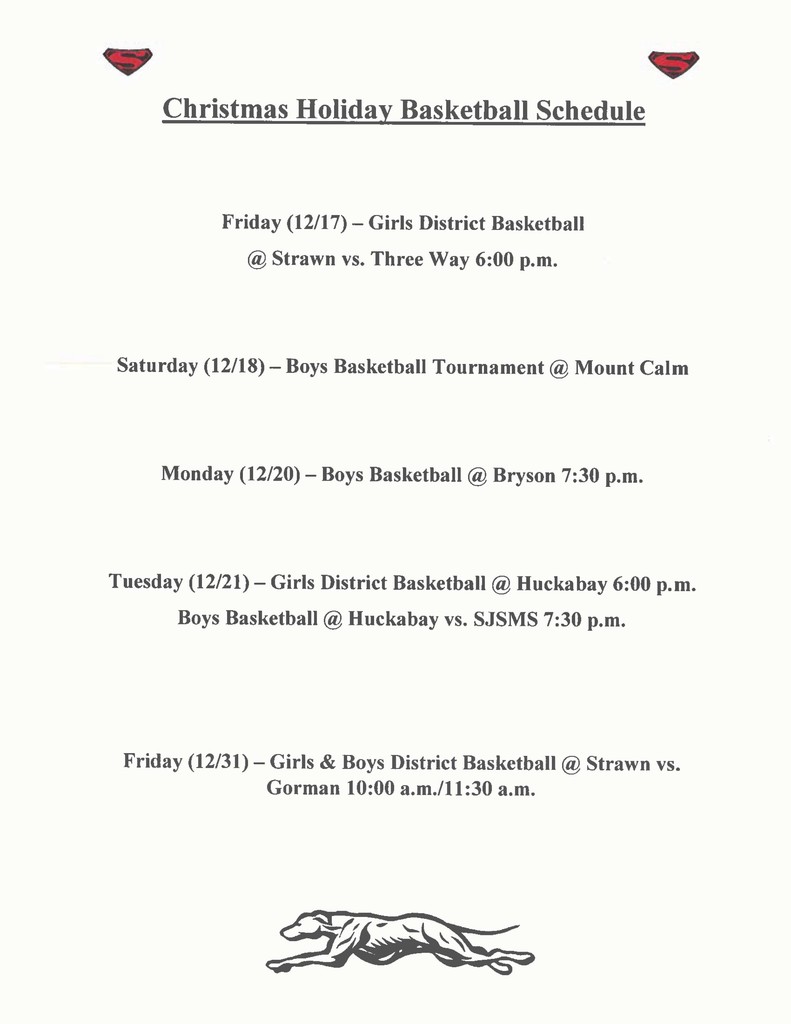 Congratulations to all our Elementary UIL Academics participants! We honored them this morning before their parties, so please excuse the pajamas! 2nd Grade Chess: Cooper Lynn & Colt Fambro - 4th Place tie Cooper, Colt, & Sophia - 2nd Place TEAM 2nd Grade Music Memory: Cooper Lynn - 3rd 3rd Grade Story Telling: Saydie Parsons - 6th Place 3rd Grade Music Memory: July Nuñez - 4th Place Gunner Parsons - 3rd place Kessler Kite, July Nuñez, Gunner Parsons, Lyla Whitenton, & Rosemary Rivera - 2nd Place TEAM 3rd Grade Spelling: July Nuñez - 4th Place Gunner Parsons - 2nd Place Gunner Parsons, July Nuñez, Lyla Whitenton - 1st Place TEAM 4th Grade Music Memory: Max Johnson - 2nd Place 4th Grade Ready Writing: Caydence Parsons - 4th Place Elizabeth Ellis - 1st Place 4th Grade Oral Reading: Caydence Parsons - 1st Place 4th Grade Number Sense: Sofia Alanis - 3rd Place 4th Grade Art: Caydence Parsons - 4th Place Elizabeth Ellis - 1st Place 4th Grade Spelling: Caydence Parsons - 3rd Place Sofia Alanis - 2nd Place Max Johnson, Caydence Parsons, & Sofia Alanis - 1st Place TEAM 5th Grade Art: Estrella Reyes - 6th Place Hattie Hopkins - 3rd Place 5th Grade Music Memory: Diego Mireles - 4th Place 5th Grade Maps, Graphs, & Charts: Hattie Hopkins - 6th Place 5th Grade Number Sense: Estrella Reyes - 3rd Place 5th Grade Ready Writing: Hattie Hopkins - 2nd Place Well done, everyone!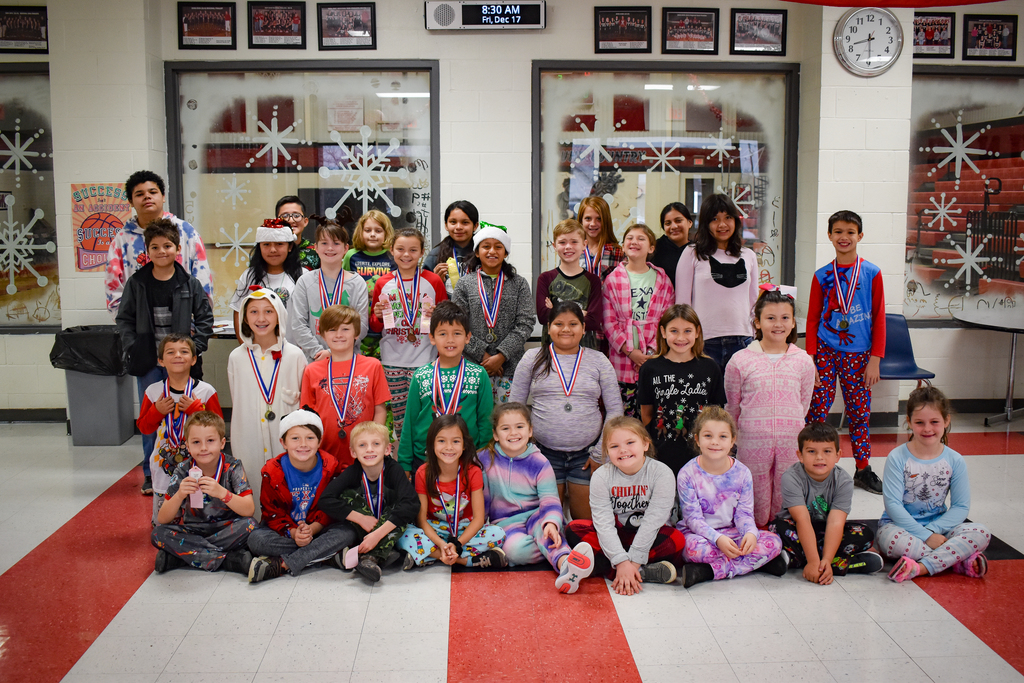 Have a safe, wonderful break! School resumes Tuesday, January 4th; first bell rings at 7:56 AM. We'll start our second semester with these delicious meals provided by our cafeteria staff. Remember that our students eat free thanks to the USDA! You can find the menu daily in the Dining section of our website and Strawn ISD app!