Congratulations to our 2021 Mr. Greyhound, Jett Millsop, and Homecoming Sweethearts, Lilleann Parsons & Emily Williams! Please visit our Facebook page for more photos of our Homecoming Nominees!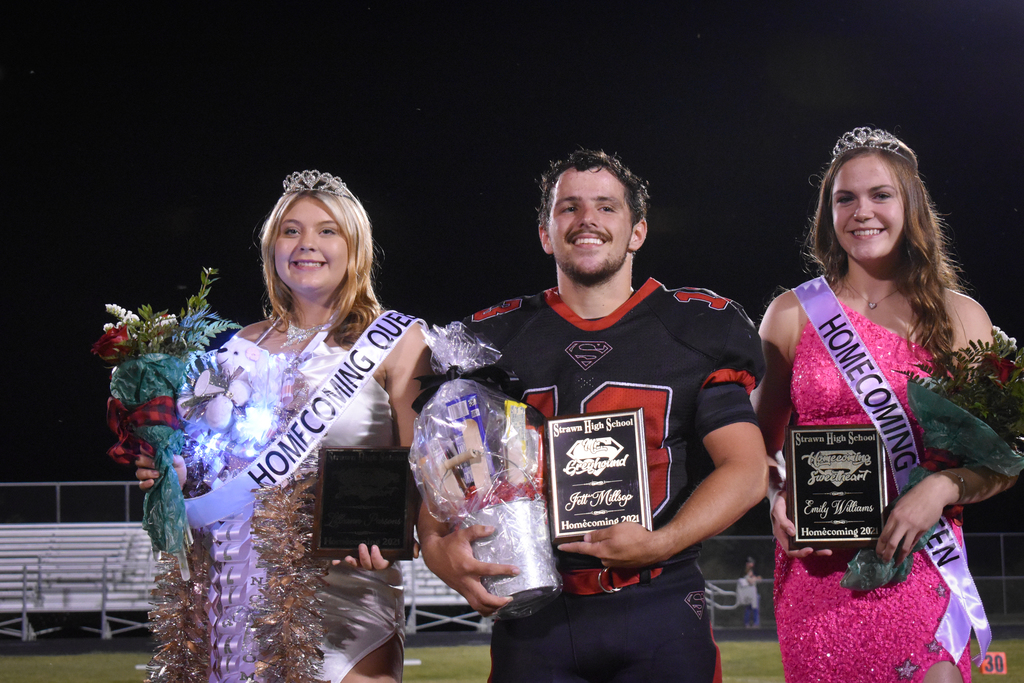 Tonight's Homecoming game against Bluff Dale starts at 7:30 at Greyhound Stadium! Good luck to our Hounds and to our Homecoming Court Nominees: Justice Baker, Jett Golden, Kyler Tunnell, Grayson Rigdon, Emily Williams, Ashley Figueroa, Lilleann Parsons, & Peyton Hammond! Check out a few fun photos of our Homecoming Week in the meantime! Thank you to all the students, parents, and community members who showed up and made this such a wonderful week! Your involvement means so much to us and truly makes every day a great day to be a Greyhound! Please visit our Facebook page for many more photos!

What do all these students have in common? Besides wearing their battle colors for tonight's Homecoming game, they ALL met their IXL goals in both Reading and Math! This takes a lot of work and commitment, and we are happy to reward them with a fun breakfast and extra time on the playground this morning!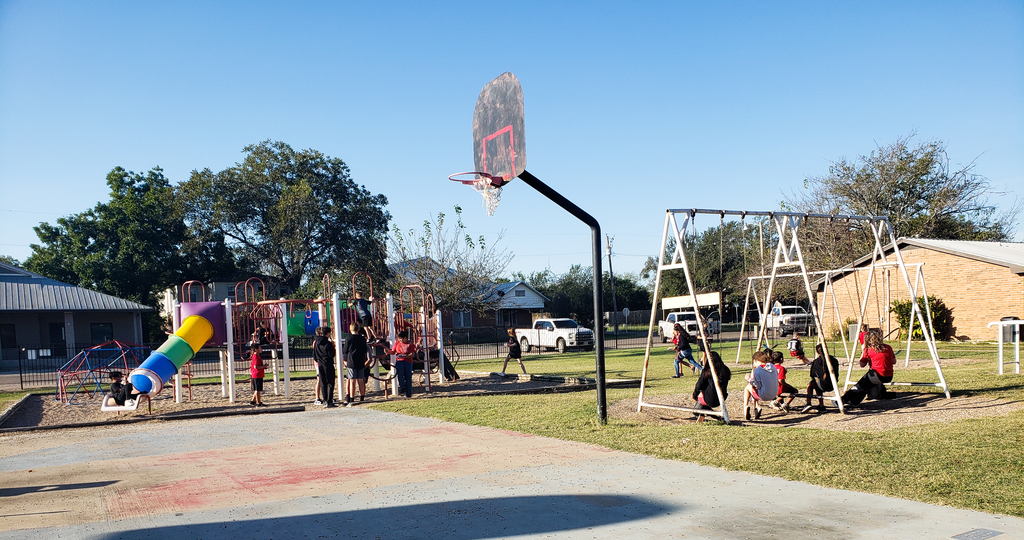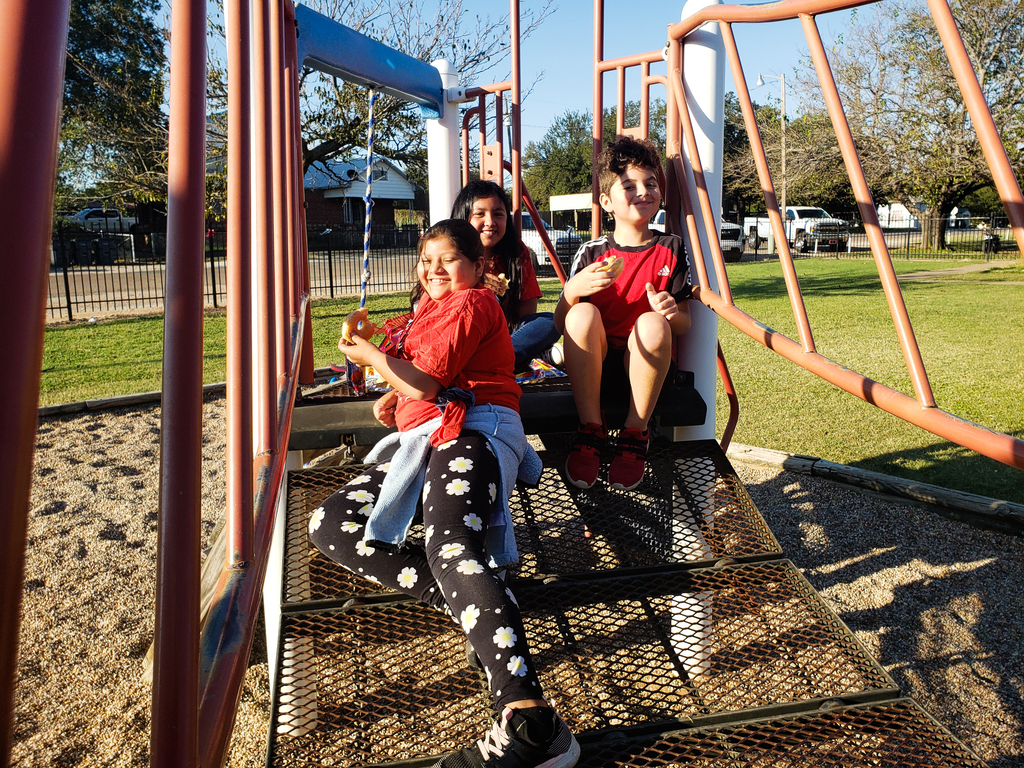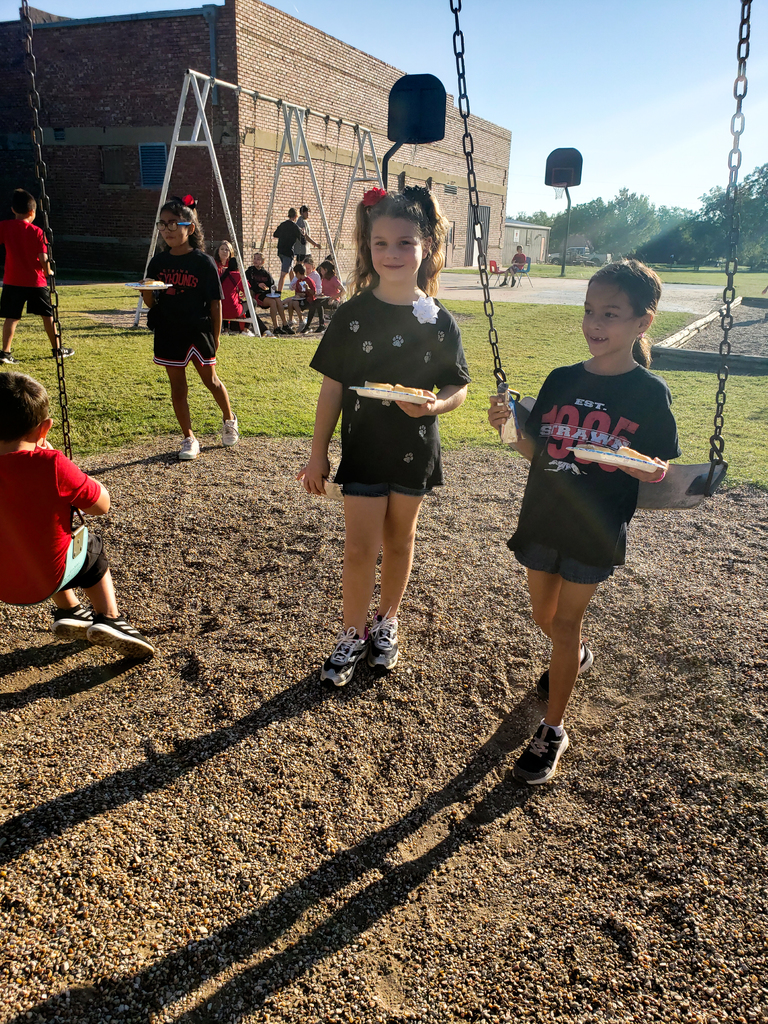 High School students who went the whole first cycle without being tardy or leaving class were rewarded today, spinning the wheel to win a prize. Students won such items as cash, gift cards, hoodies, sweets, and homework passes! If students had zero hole punches (great behavior and punctuality), they were given 3 spins & bigger prizes. 1-2 hole punches received 2 spins and good prizes. 3-5 hole punches were rewarded with 1 spin and small prizes. If students used all 6 hole punches, no prize was given. We are proud of our students and love rewarding great behavior! Please visit our Facebook page for more photos!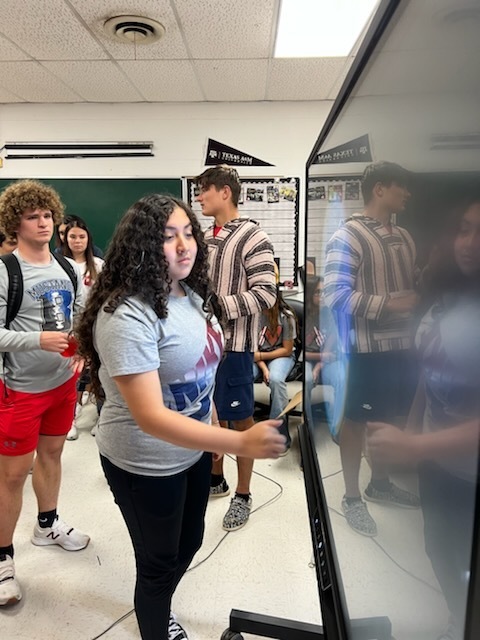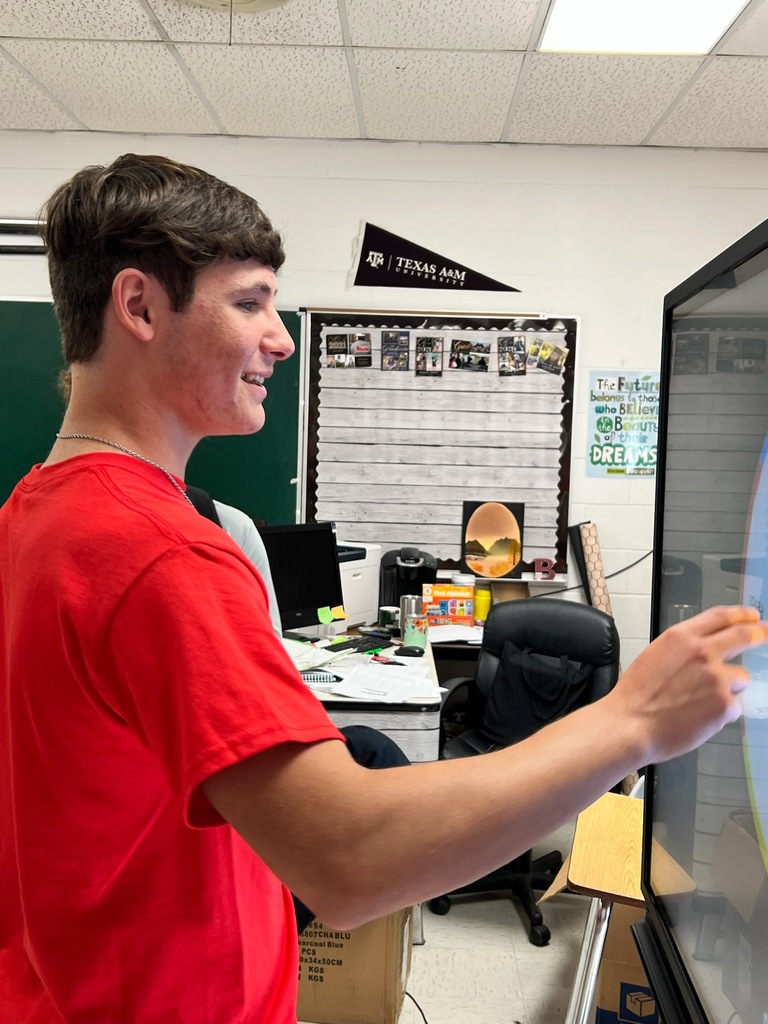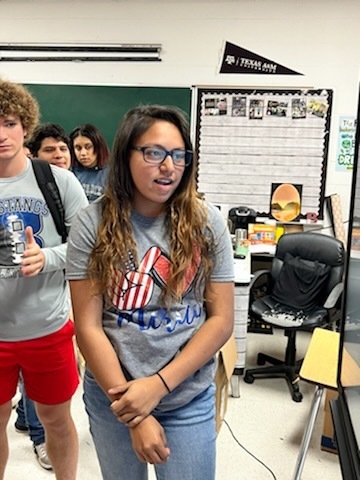 Happy National Yearbook Week! All students who pre-order their yearbook by this Friday, October 8th, will receive a donut on Monday morning! We've received 3 pre-orders so far! $30 cash or check, payable to Strawn ISD You may also order online at ybpay.com using Yearbook ID # 12471022 Contact Mrs. Ellis for Senior page pricing & info! (254) 672-5776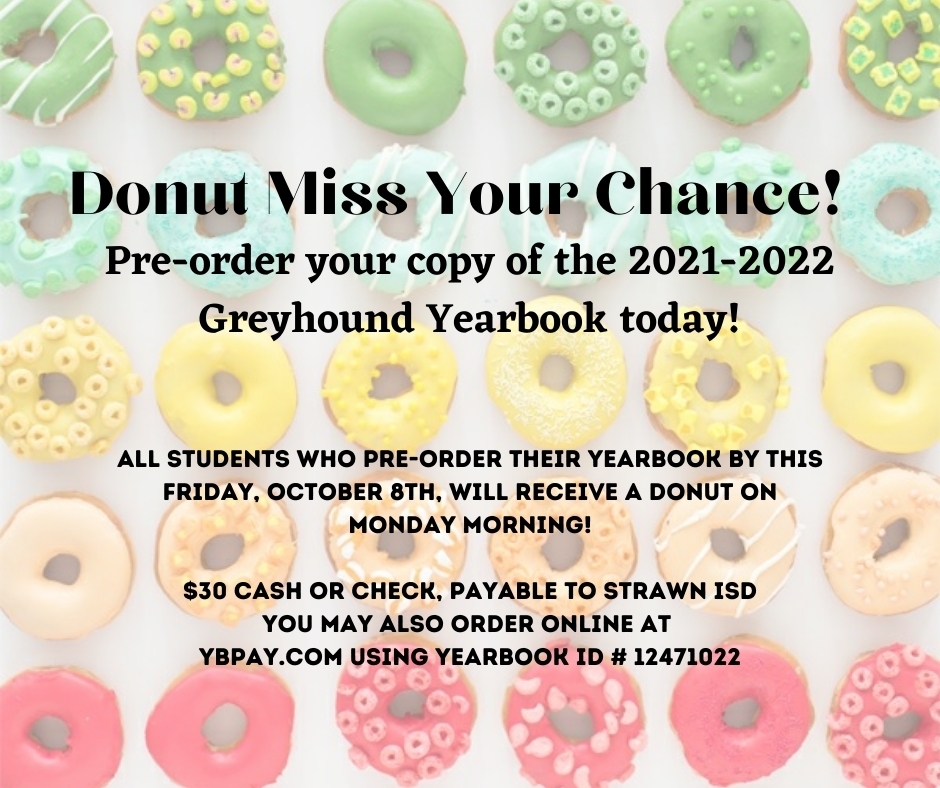 Homecoming Events!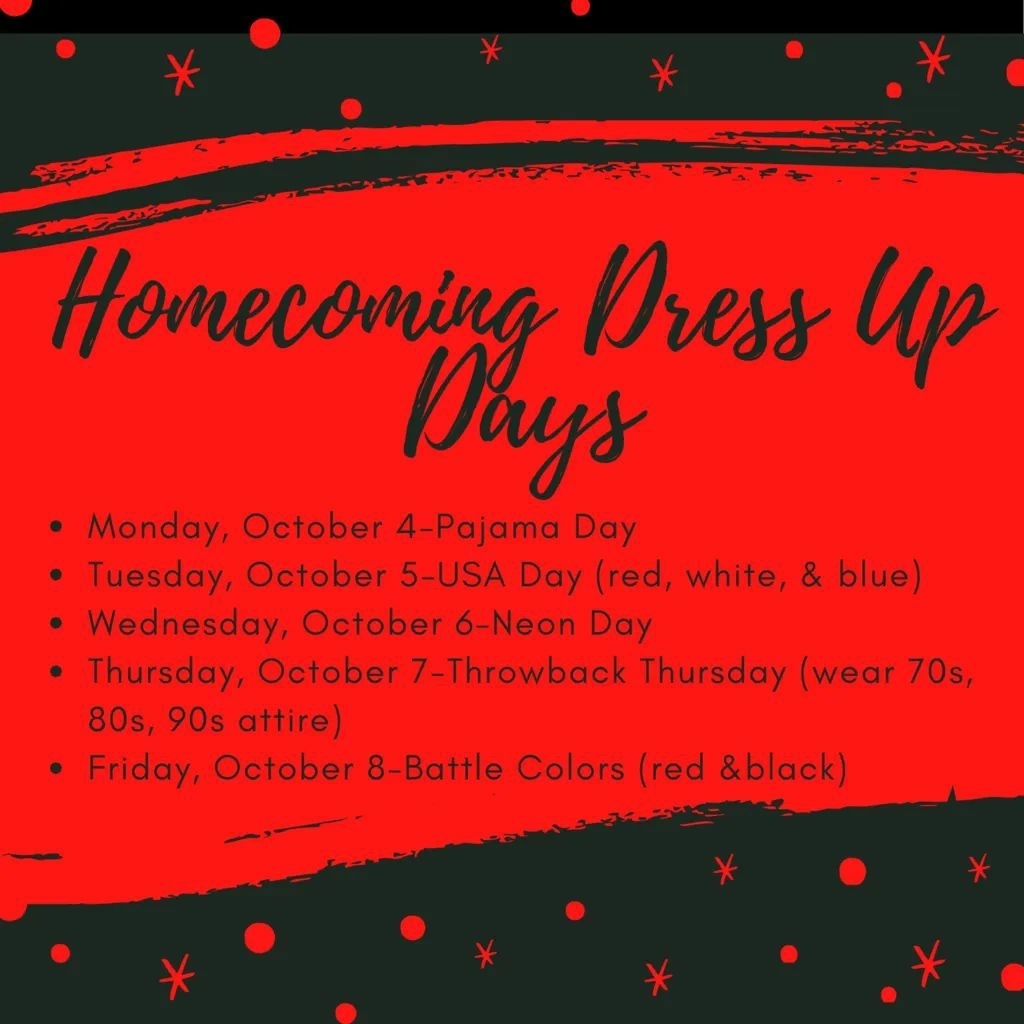 Saturday, October 16th, is Strawn Community Garage Sale Day, from 8:00 AM to 1:00 PM! The Strawn Booster Club will be set up at 220 Central Avenue and will be taking donations. What is Booster Club and what do they do? Our wonderful Booster Club is made of community volunteers who raise funds to help our students! They help to send our students on field trips. They stock the work room and help buy big items needed in classrooms. For example, they have helped purchase a camera for our yearbook staff and costumes for One Act Play. Our Booster Club also raises funds for the Strawn Youth Association. If you have questions or want to learn more about Strawn Booster Club, please come to a meeting or contact the club's president, Sona Nunez!

Don't forget! Tonight is the benefit for our Technology Teacher, Ms. Nowak! This event will be at Greyhound Stadium from 5:00 PM TO 8:00 PM. They will be selling shirts, bracelets, and pulled pork sandwiches. For more information, visit
https://fb.me/e/1hSlTApZQ
.

We've had an excellent first cycle in the library with our new Teacher Relief Library Program! Mrs. Ellis takes a grade level to the library for a read-aloud and activities, giving the teachers a well-deserved 30 minute break. Here's a look at what we've been up to! PreK: "Humpty Dumpty Climbs Again" & "After the Fall" - Everyone loved it when Humpty Dumpty fell off the wall! Kindergarten: "Grandma Elephant is in Charge" - Kindergarten knows to listen to their grandmothers and enjoyed learning facts about elephants! 1st Grade: "Possum and the Summer Storm" - These kids loved hearing about everyone working together to build a new home for the Possum family! 2nd Grade: "Super Manny Stands Up!" - Second Grade had lots of great ideas on how to be Super and stand up for others! 3rd Grade: "The Legend of Rock, Paper, Scissors" - Third Graders named character traits of the protagonist and then had an EPIC Rock, Paper, Scissors Tournament! 4th & 5th Grades: "Lost!" - After learning lots of survival tips, students put their knowledge to the test to see if their team could survive being lost in the wilderness!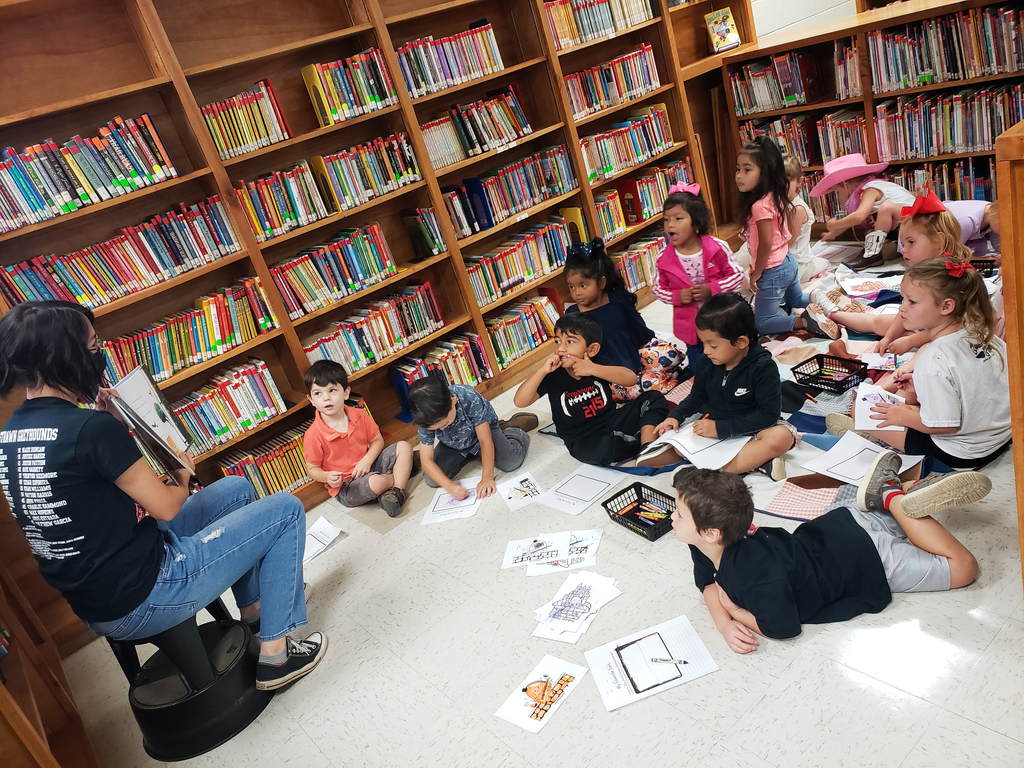 Strawn ISD will be closed this Friday, October 1st, for professional development. Classes will resume Monday, October 4th, at normal time. Have a safe, long weekend!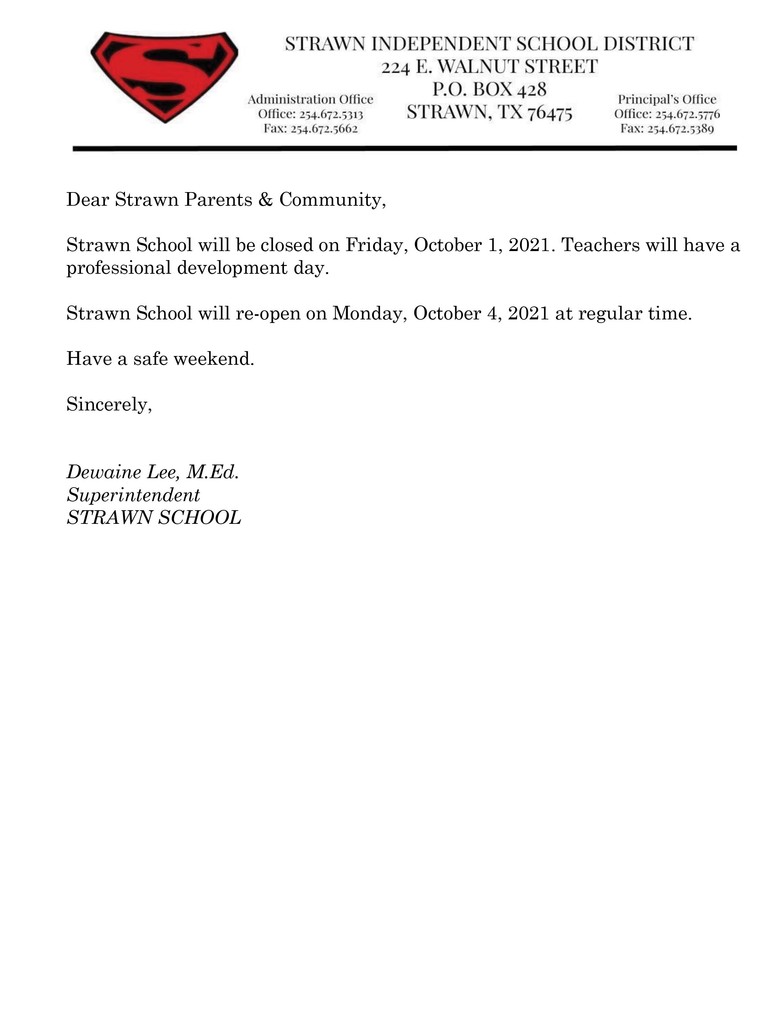 HOMECOMING: Next Friday, October 8th! Get into the spirit and celebrate all next week with the following dress up days!

World's Finest Chocolate for sale! See Mrs. Mallory to buy a candy bar. This fundraiser benefits the Strawn Education Foundation!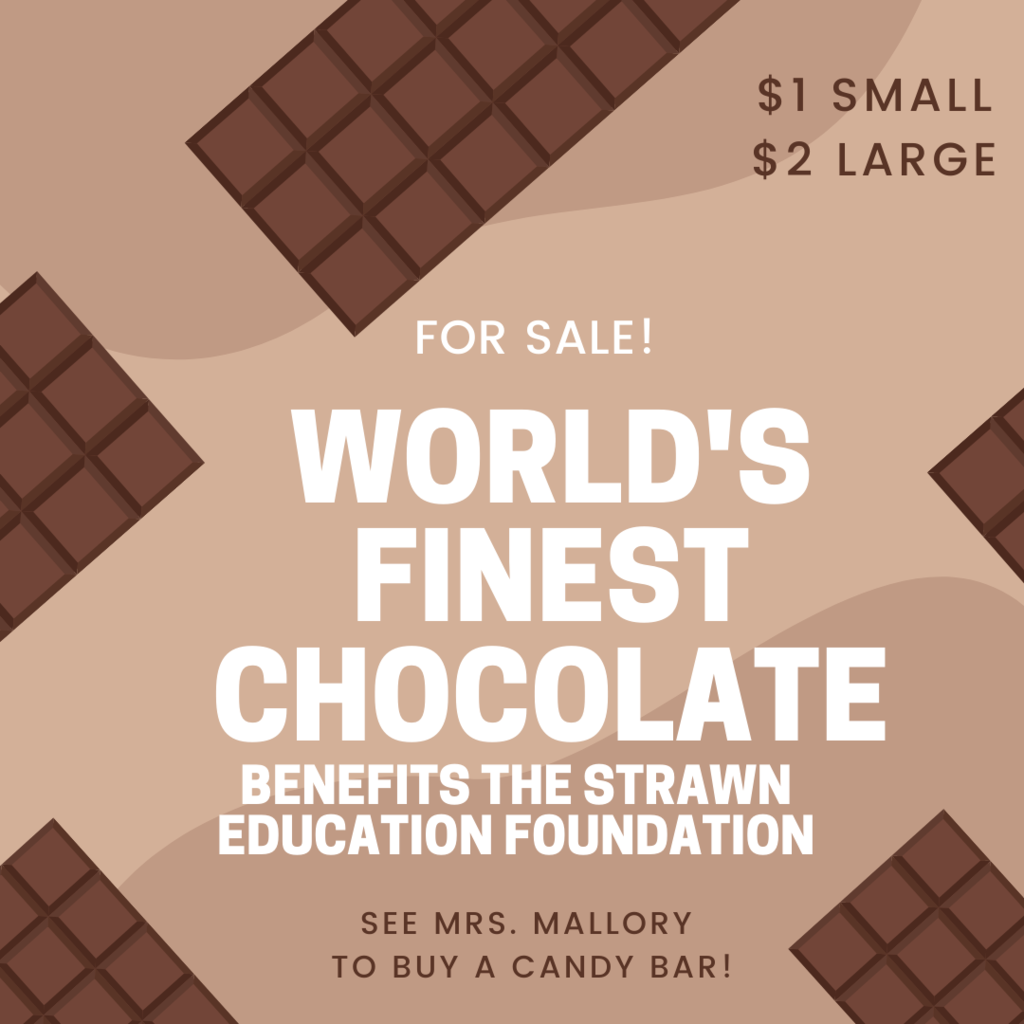 Don't forget about Picture Day on Monday! Staff, Grades PreK-11, Senior Portraits, JH & HS Volleyball, JH & HS Cheer & Pep Squads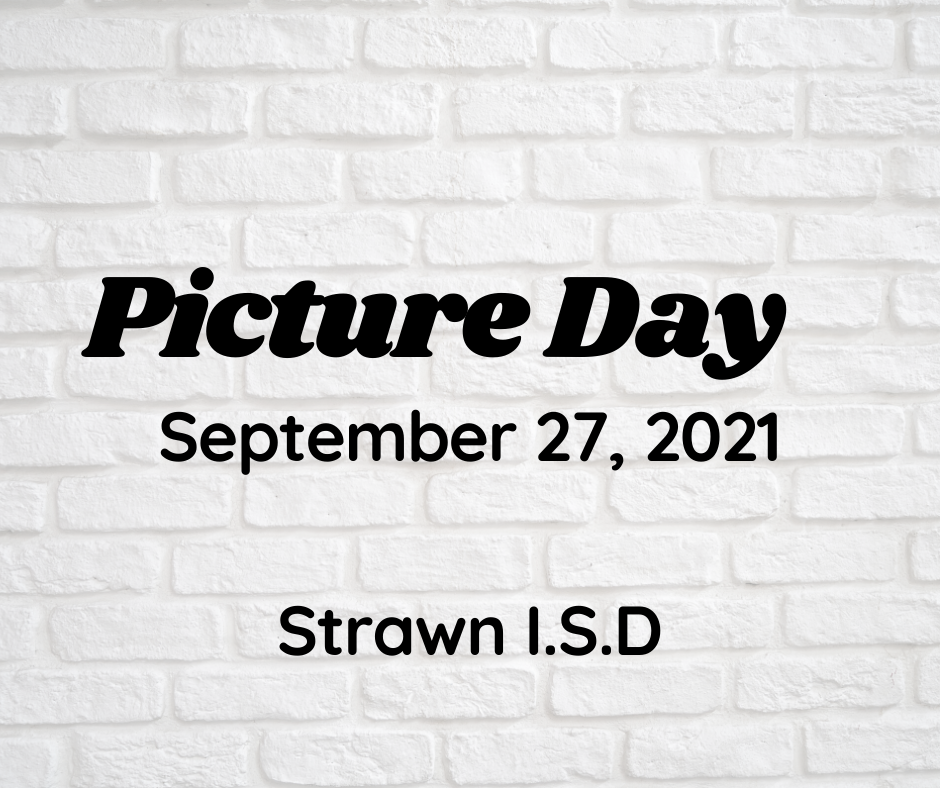 Today's HS Pep Rally has been moved to the gym, still scheduled for 2:20 PM.

Mrs. Milner's 1st Grade scientists experiment with matter to concoct root beer floats!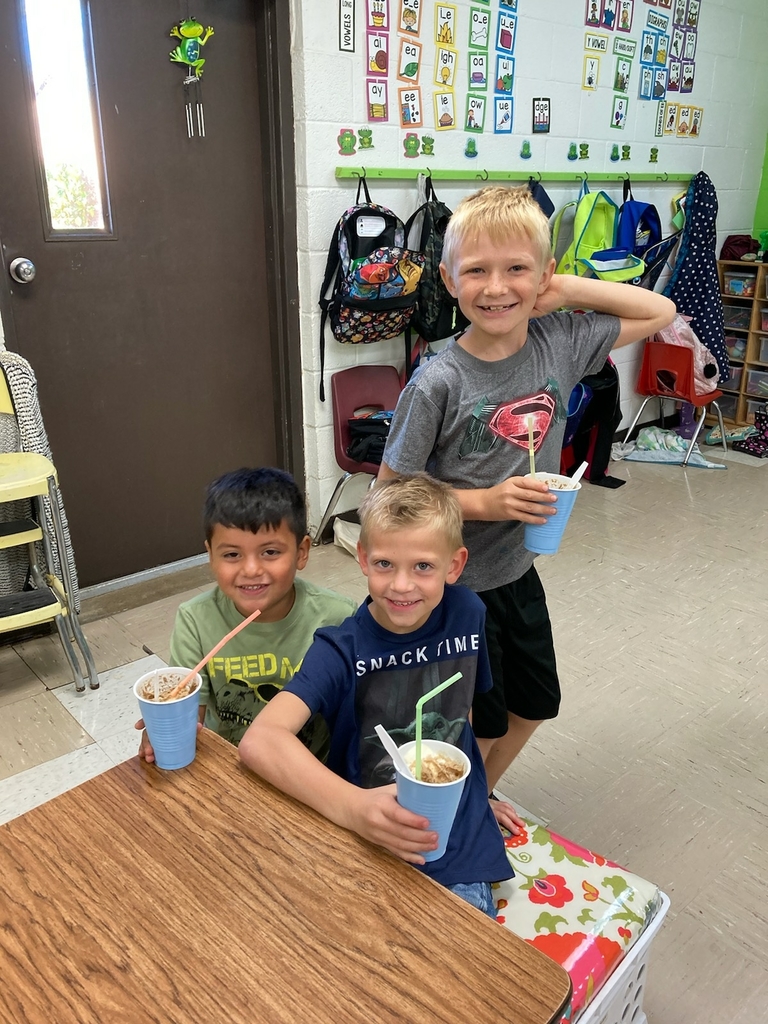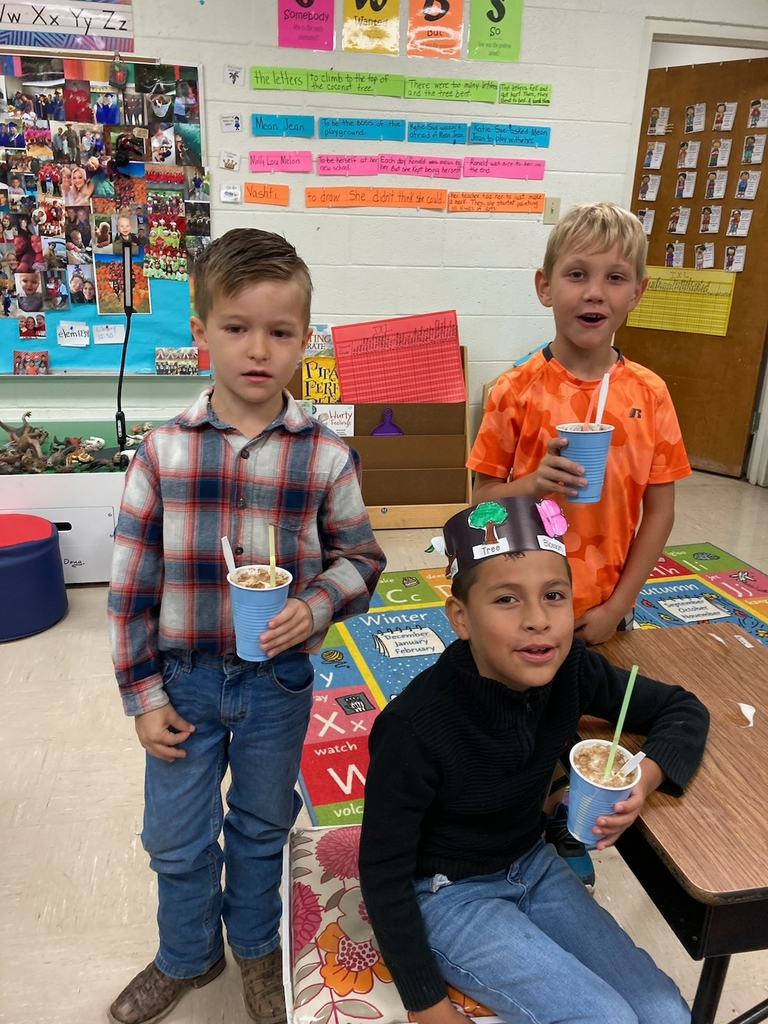 We are still missing MANY registration forms, which were sent home with students on the first day of school. Please return those to your child's teacher or the office! We will be sending home another copy of the Image Use Release form with those students who have not yet returned it. This forms allows us to put your child in the Yearbook and share images on our website and social media. Please return it as soon as possible! If you have any questions, please call Mrs. Ellis at (254) 672-5776.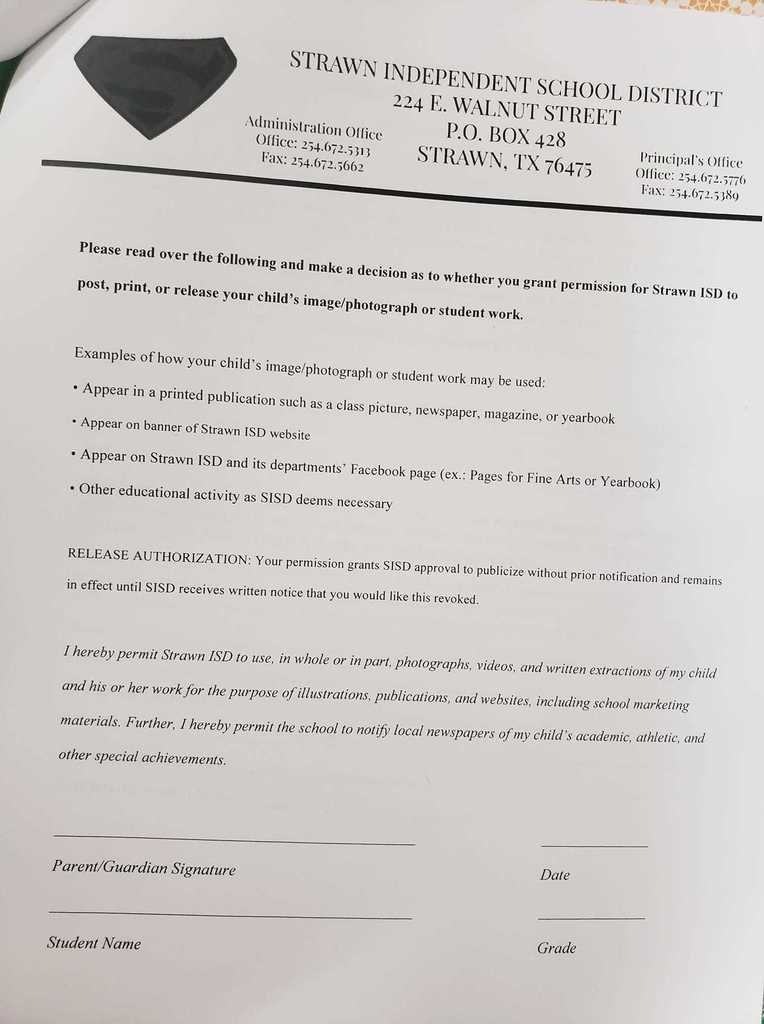 Happy first day of fall! October is almost here, and with it come all these delicious meals provided by our wonderful cafeteria staff - Mrs. Montgomery, Ms. Davis, and Mrs. Hernandez! Thank you, ladies, for serving our district so well! Please remember that our students eat free this school year, thanks to the USDA. You can also view menus on our website and app in the Dining section!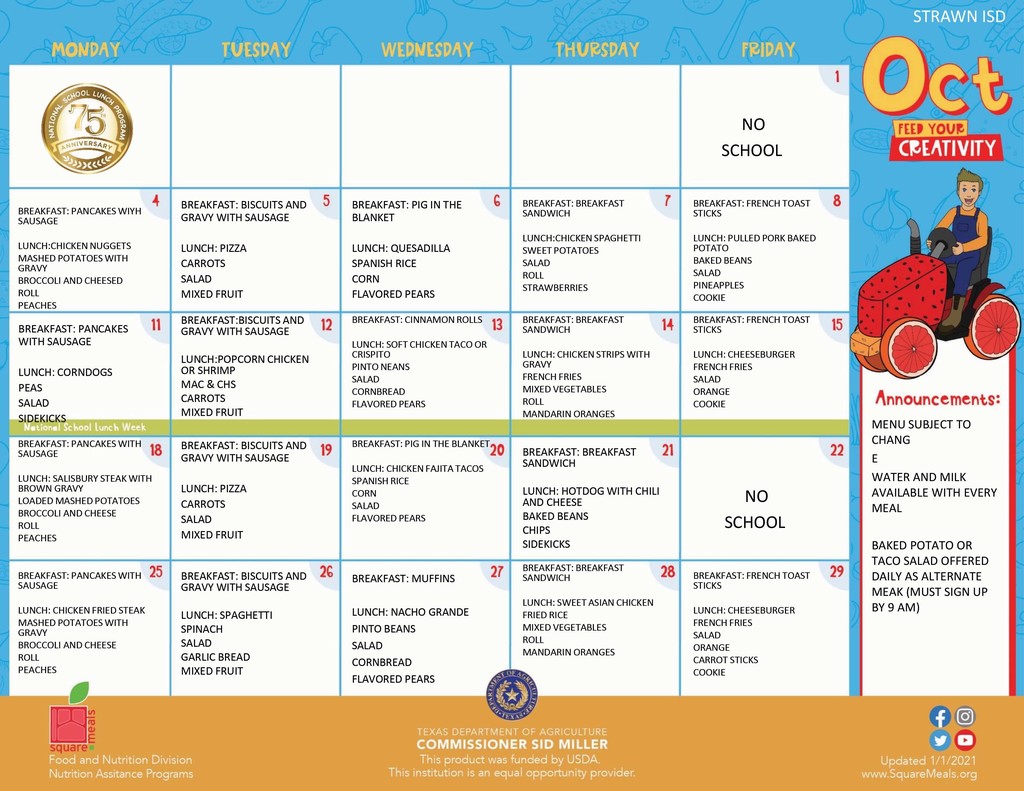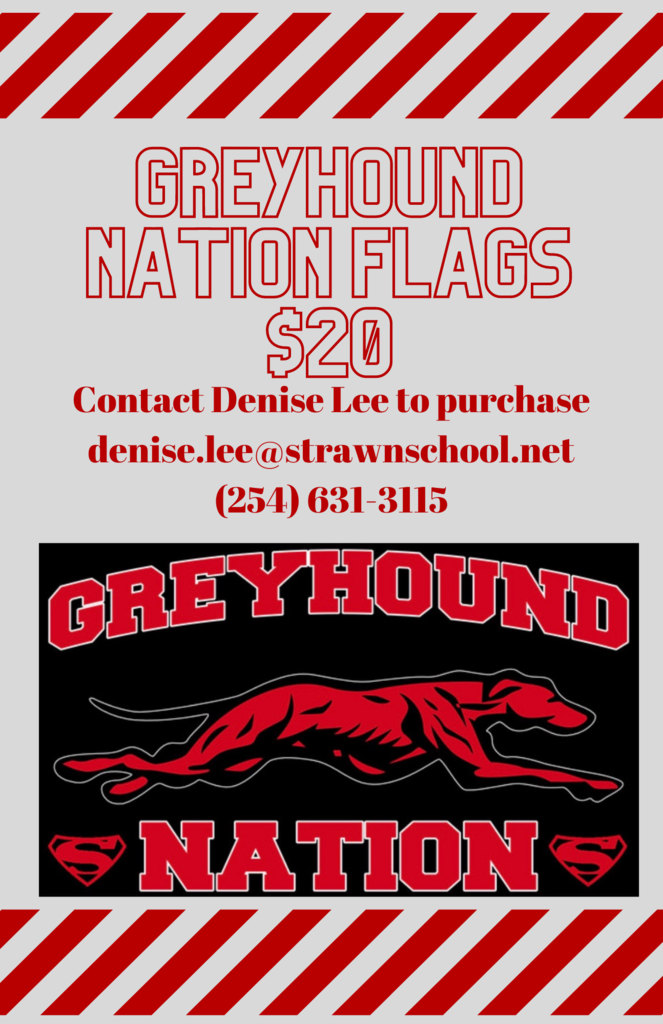 FRIDAY: Wear camouflage to hunt the wildcats! Tattoos 50¢, Eye Blacks $1 JH Pep Rally Thursday, 2:20 PM on the playground HS Pep Rally Friday, 2:20 PM on the playground