High School Athletes will be painting the road leading to Greyhound Stadium on Thursday, September 2nd, at 6:00 PM. We will have hot dogs, chips, and ice cream!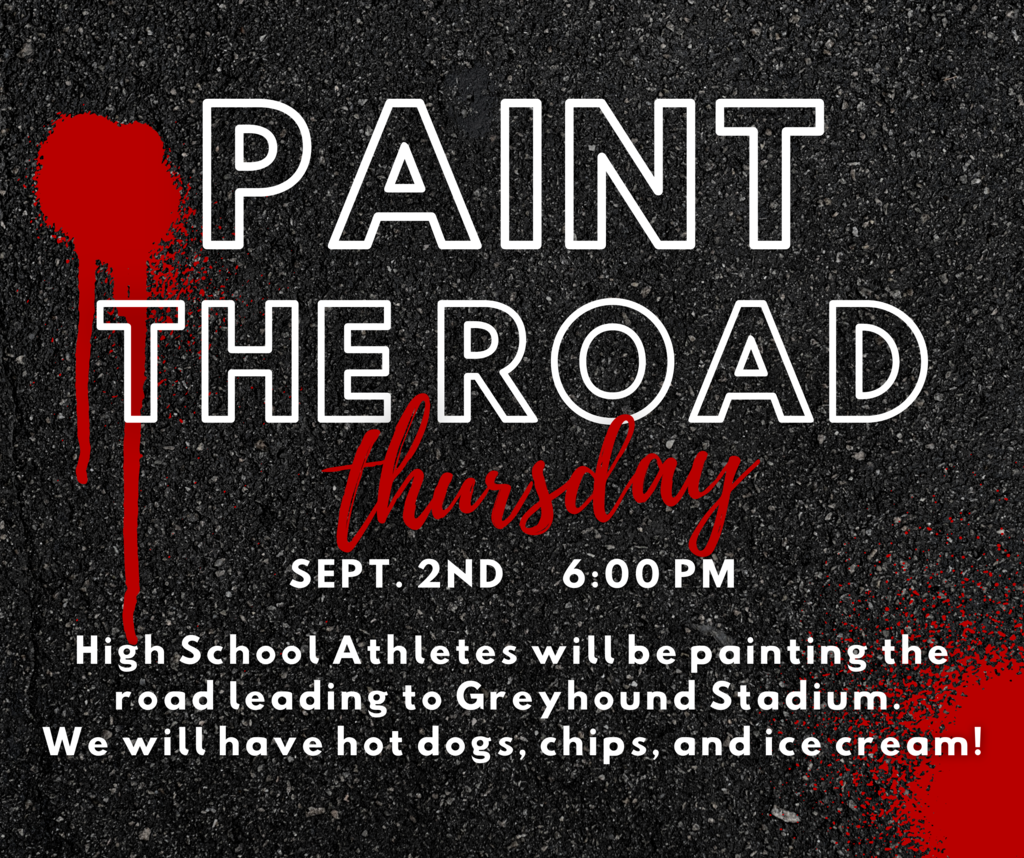 First Home Game Friday! The Greyhound Football Team & Cheerleaders will be greeting our students as they arrive Friday morning! Wear your best Cowboy Get-Up & join us in the gym at 2:20 PM for our first pep rally of the year! Lastly, our Hounds play at Greyhound Stadium at 7:30 PM with our mini cheerleaders performing at halftime! See you there!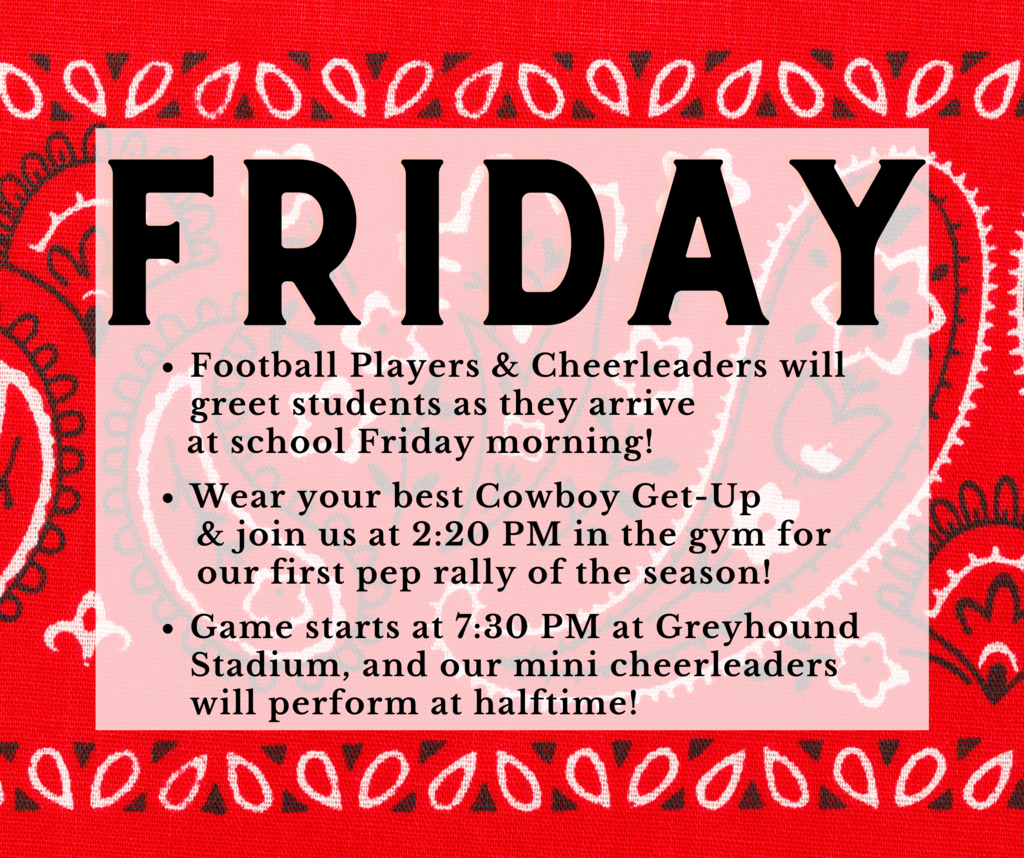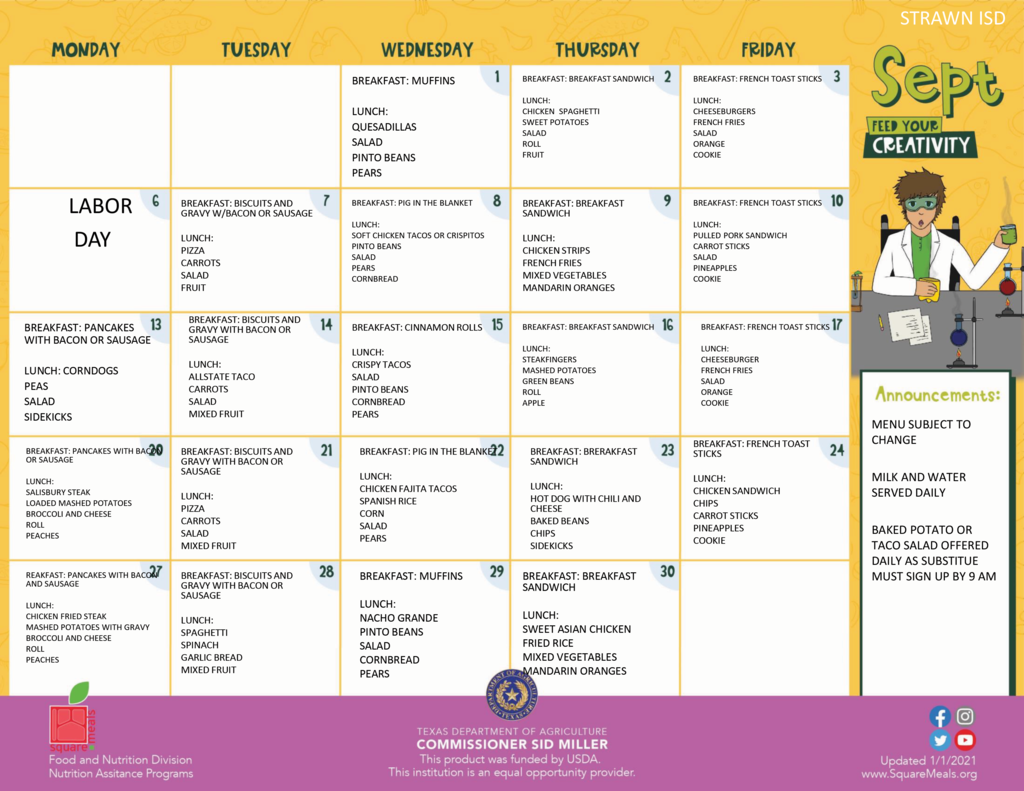 Please join us in welcoming Woonsen from Thailand! We are so happy you've come to Strawn, and we hope you LOVE being a Greyhound as much as we do! Community Members: If you're interested in opening your home up to an exchange student, please visit
https://asse.com/become-a-host-family/
.

Send-off for the Varsity Greyhounds will be Friday, 2:20PM by the new gym! Join us in seeing them off for their first game of the season!

Anyone interested in showing ANY show animal this year, please meet in the Ag Building at 6:00 PM tonight! Masks are strongly encouraged.

Updated Football Schedules for Varsity & Junior High!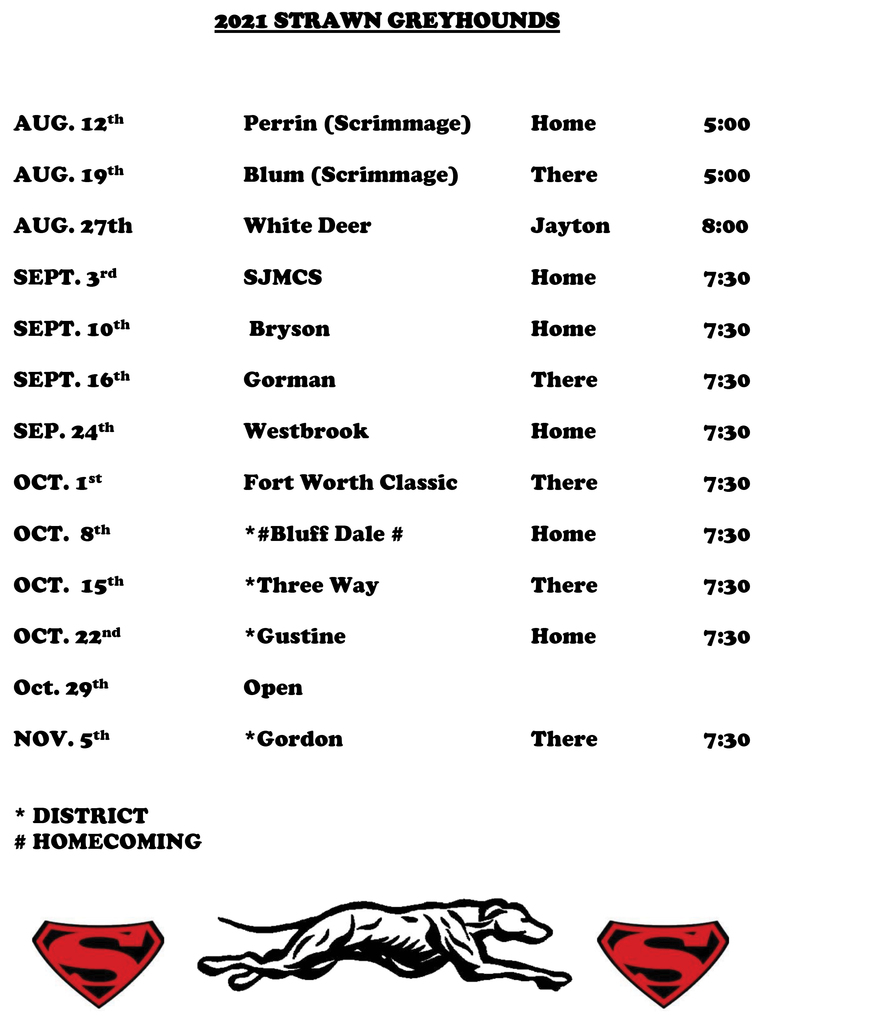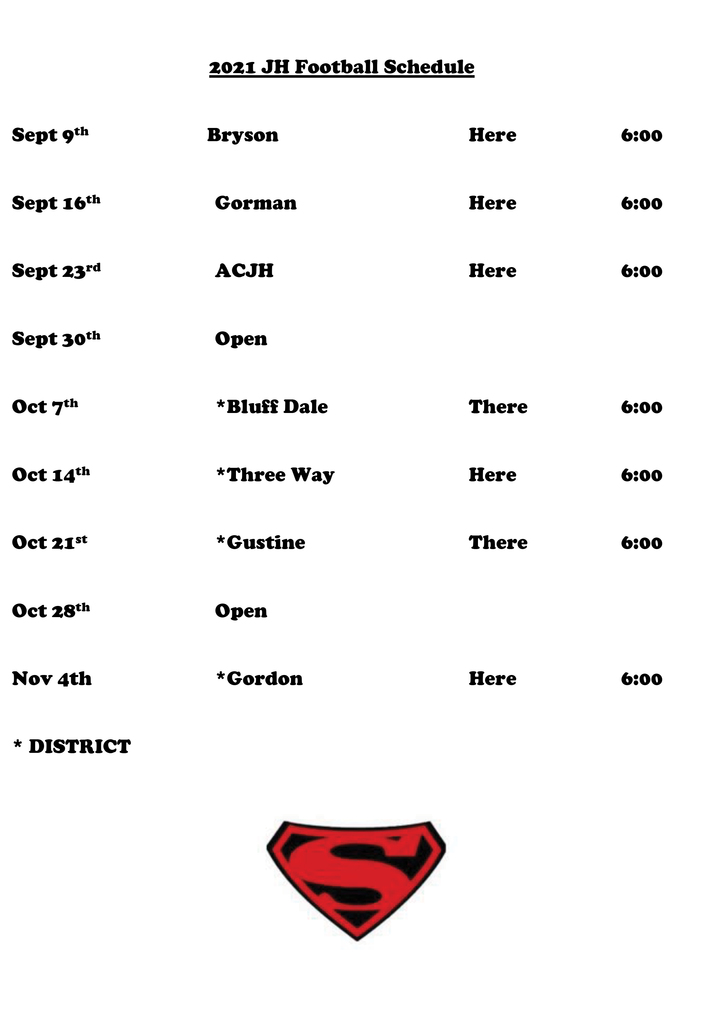 August 28th is the deadline to apply for P-EBT benefits. You can read more here. English:
https://5il.co/xt4b
Spanish:
https://5il.co/xt4a
Texas Health and Human Services is partnering with the Texas Department of Agriculture and the Texas Education Agency to provide summer 2021 Pandemic Electronic Benefit Transfer (P-EBT) benefits to eligible children. Summer P-EBT, which covers June–August 2021, is for families with children (K–12) who are certified for free or reduced-price meals through the National School Lunch Program (NSLP) and for families with children born after Aug. 1, 2014, who receive Supplemental Nutrition Assistance Program (SNAP) food benefits. It is a one-time benefit of $375 for each eligible child.

Don't miss a single thing this year! Download our app on Google Play or the Apple App Store & follow us on Facebook!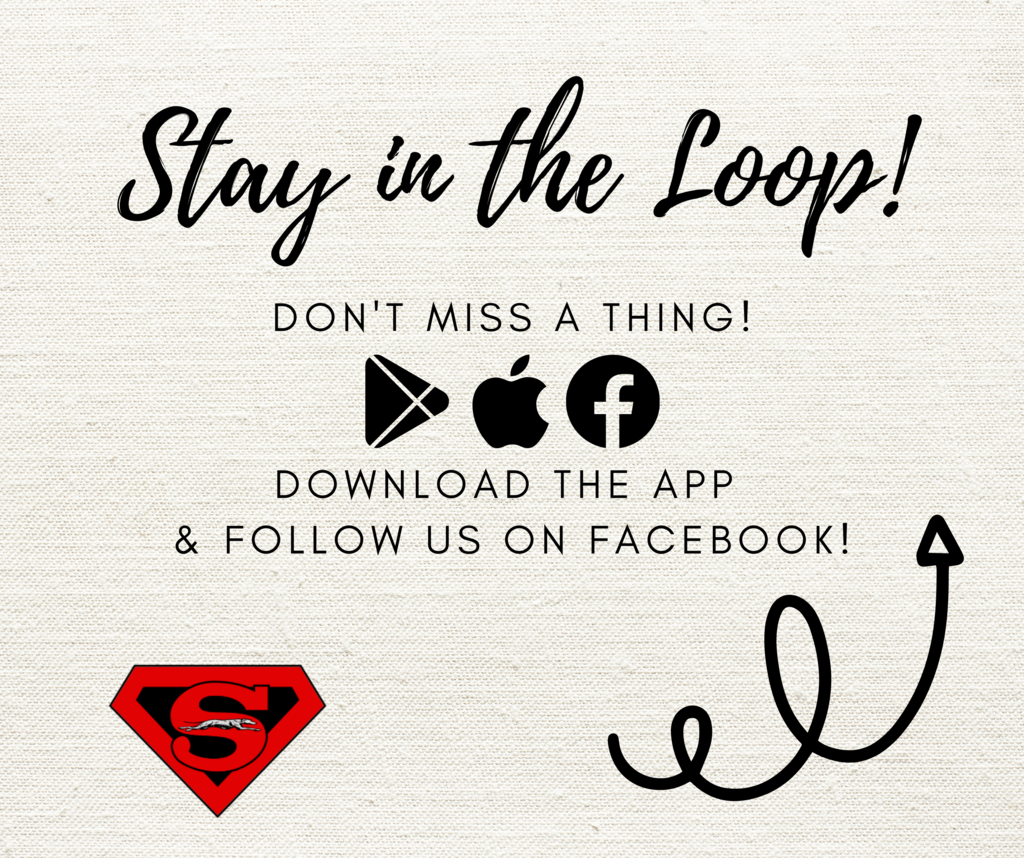 Anyone interested in showing ANY show animal this year, please meet in the Ag Building at 6:00 PM, on Thursday, August 26th! Masks are strongly encouraged.

Welcome to another wonderful year at Strawn ISD. It's a great day to be a Greyhound! We love seeing all the back to school photos! Post your First Day pictures here so we can celebrate with you!

The City of Strawn has installed new 4-way stop signs at all intersections adjacent to Strawn ISD. Please be aware of these changes and drive carefully for the safety of our students! Tomorrow, August 23rd, is our first day of school! The first bell rings at 7:55 AM & the tardy bell at 8:00 AM. We can't wait to have our Greyhounds of all ages back on our campus!

Friday's Back 2 School Bash was a blast! We are so grateful to have our students all returning to face-to-face instruction and excited to have so many new faces this year! Thank you for coming out last night to meet your teachers and Greyhounds! We sincerely appreciate everyone who helped to make the event a success - First National Bank - Strawn, Greyhound Pac-A-Sac, Strawn VFD, Strawn Youth Association, Mandujano Brothers Produce, Tropical Ice, Strawn ISD Admin, Staff, & School Board, and countless others! Thank you for helping us kick off another great school year and showing us what being a Greyhound is all about! Visit our Facebook page for MANY more photos!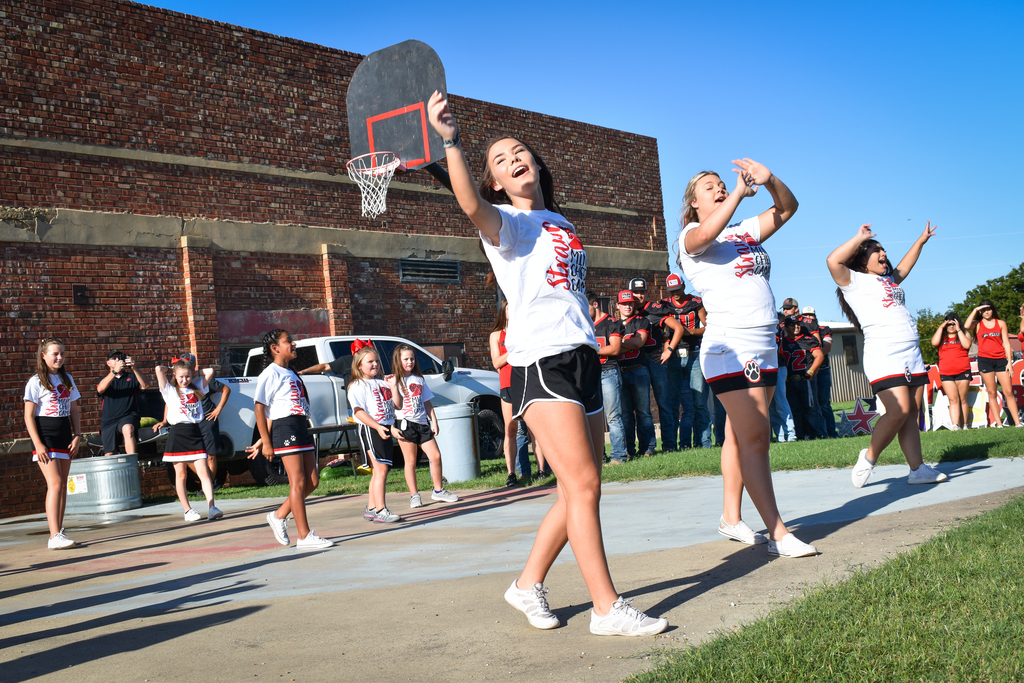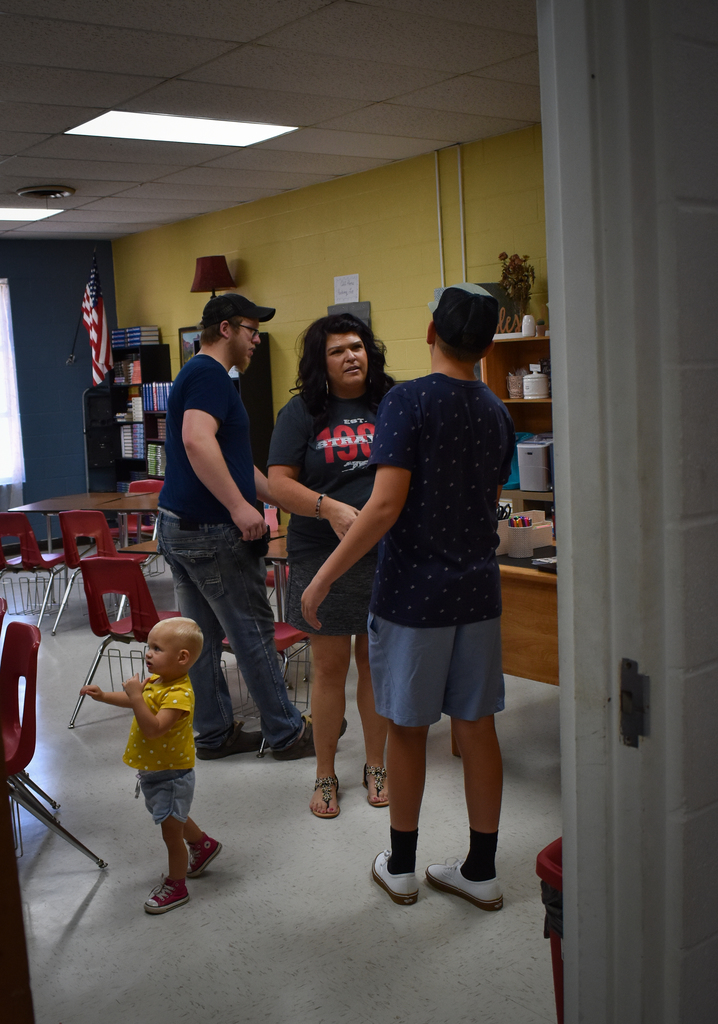 Sherlee Love, working with SISD School Board, remodeled the Administration Building, Central Office, and Teachers' Lounge. Thank you to all involved in that huge project! See more photos on our Facebook page!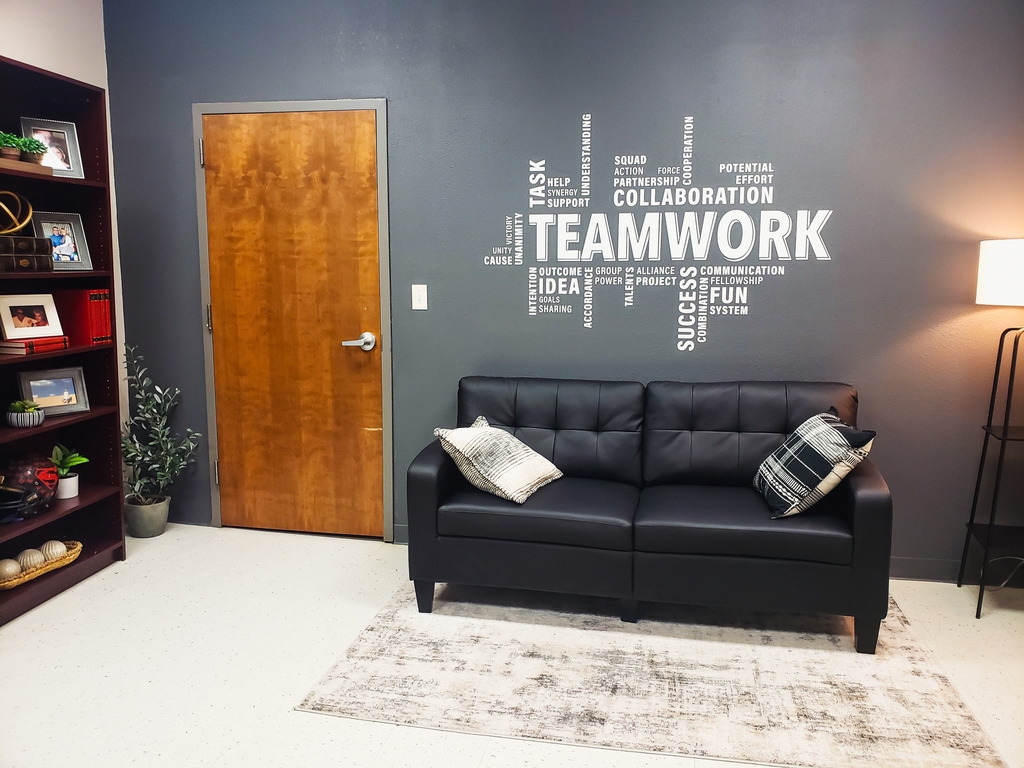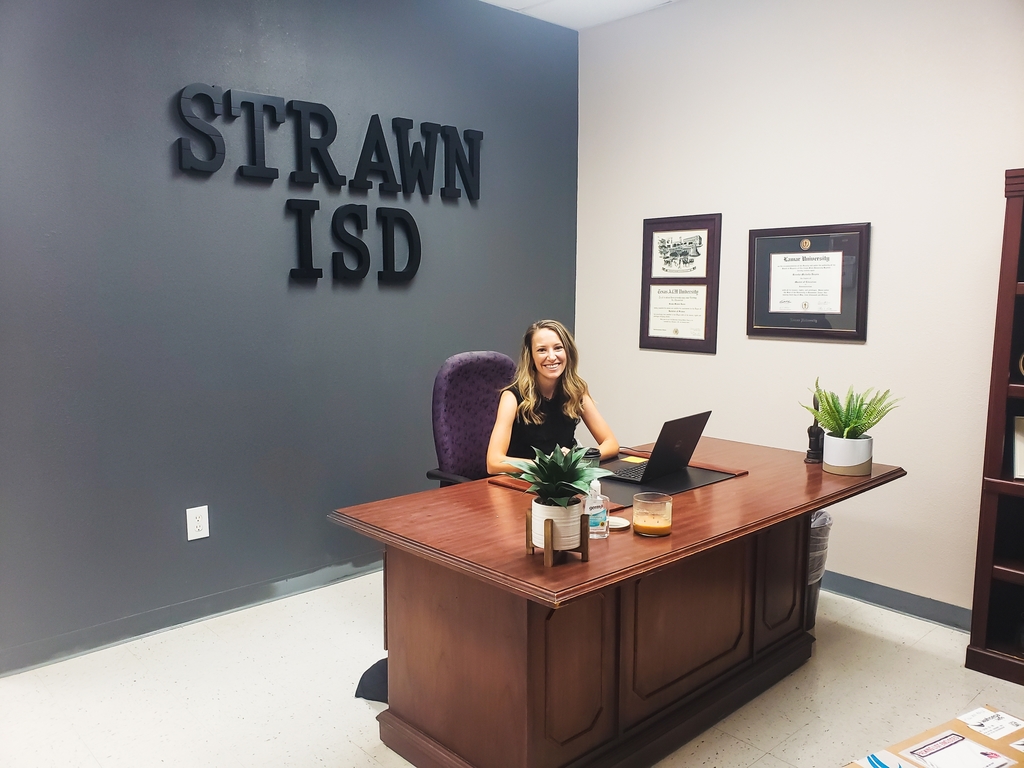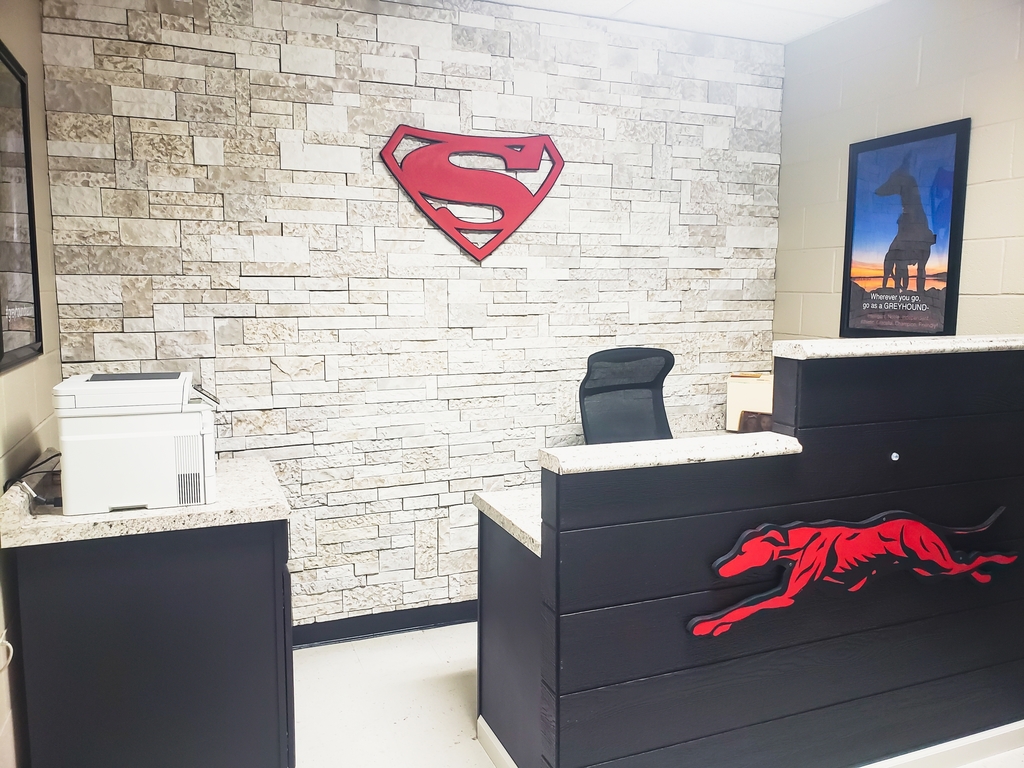 As summer comes to a close, we would like to highlight some of the updates and programs that have taken place over the last few months. Thank you to all the teachers, staff, school board, and various other community members who have helped us improve and prepare for this school year!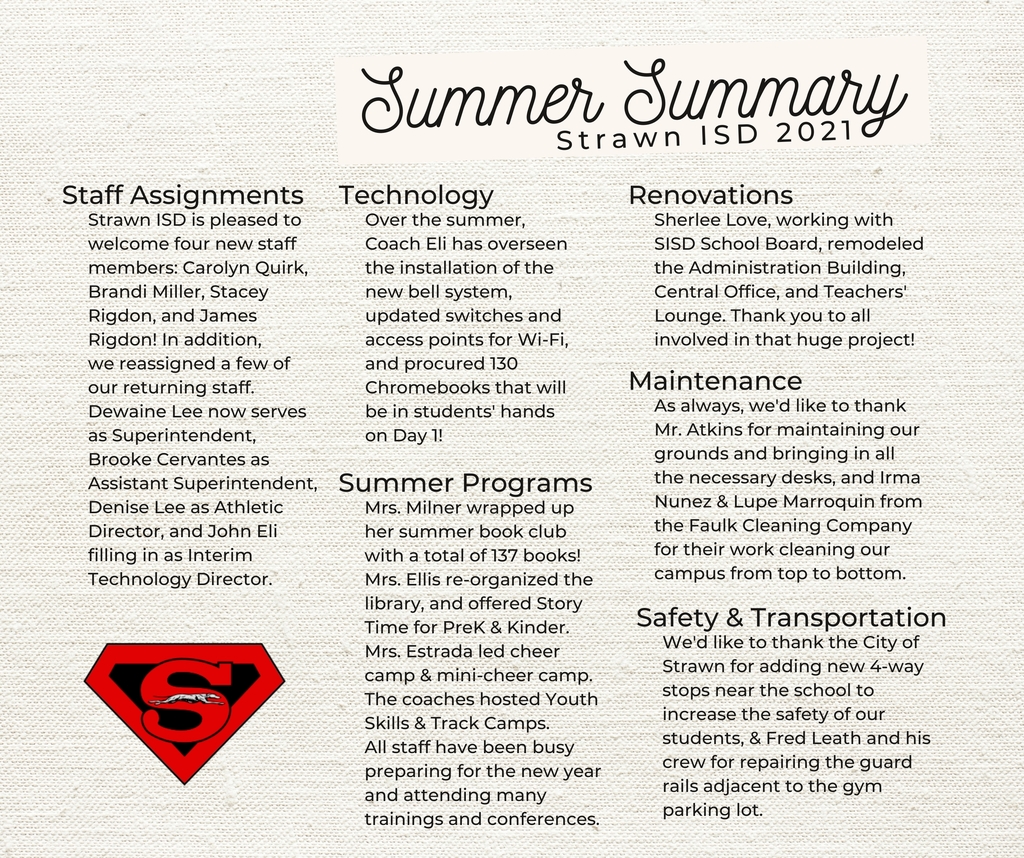 These t-shirts will be for sale tonight for $15! Mrs. Mallory will meet with HS parents at 4:45 to discuss graduation requirements. Join us for Meet the Teacher at 5:00 PM & Meet the Greyhounds at 6:00 PM! We can't wait to see you!

Strawn Volleyball Tournament Bracket Saturday, August 21st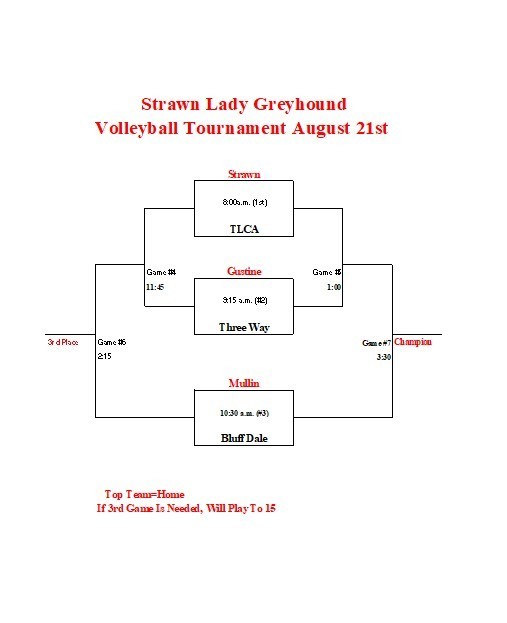 At this time, mask wear is not mandatory for Strawn ISD students and staff. However, mask wear is allowed for those who choose to wear one. Strawn ISD will continue to keep up with federal and state requirements and recommendations.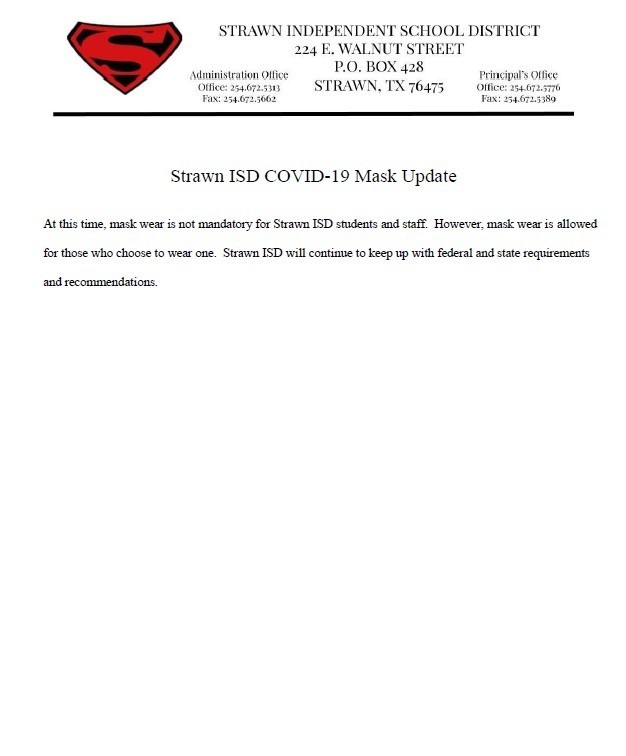 Last week, 10 members of the Strawn ISD staff became certified Youth Mental Health First Aiders! Thank you, Pecan Valley, for facilitating our Mental Health First Aid training so we can better serve our students!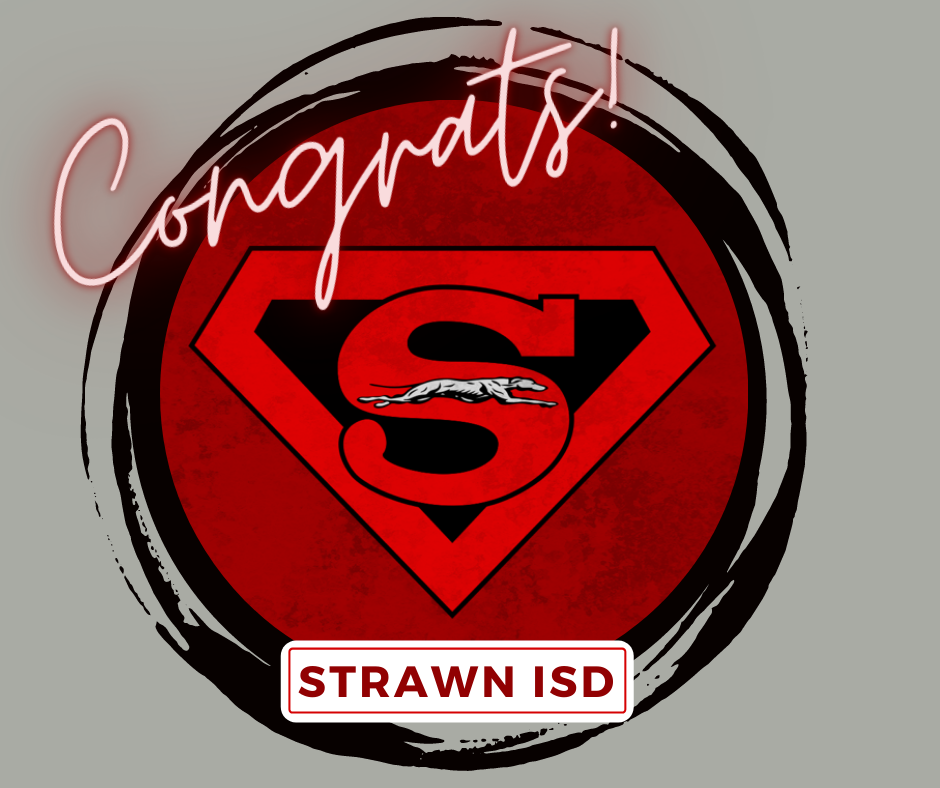 Football Schedule Change Aug. 19th, 5:00 PM Scrimmage at Blum