Ms. Estrada's Kindergarten Class has been discussing weather changes and seasons! Using a clear cup of water, shaving cream, and food coloring, they created their own clouds. When the shaving cream cloud became too heavy with food coloring, it fell down as rain. What a fun and colorful science experiment!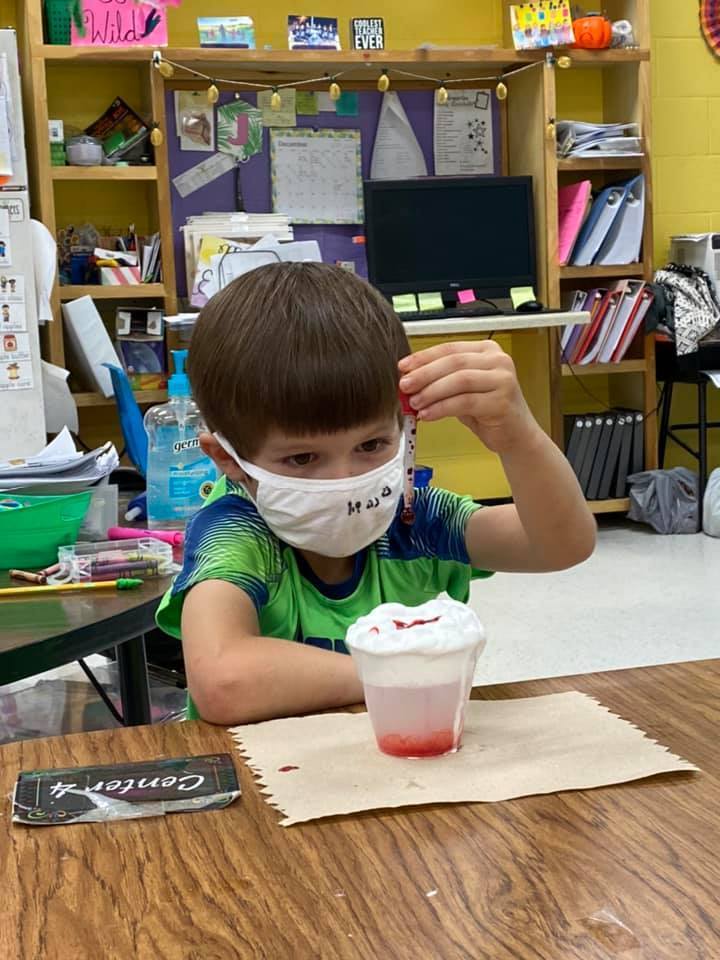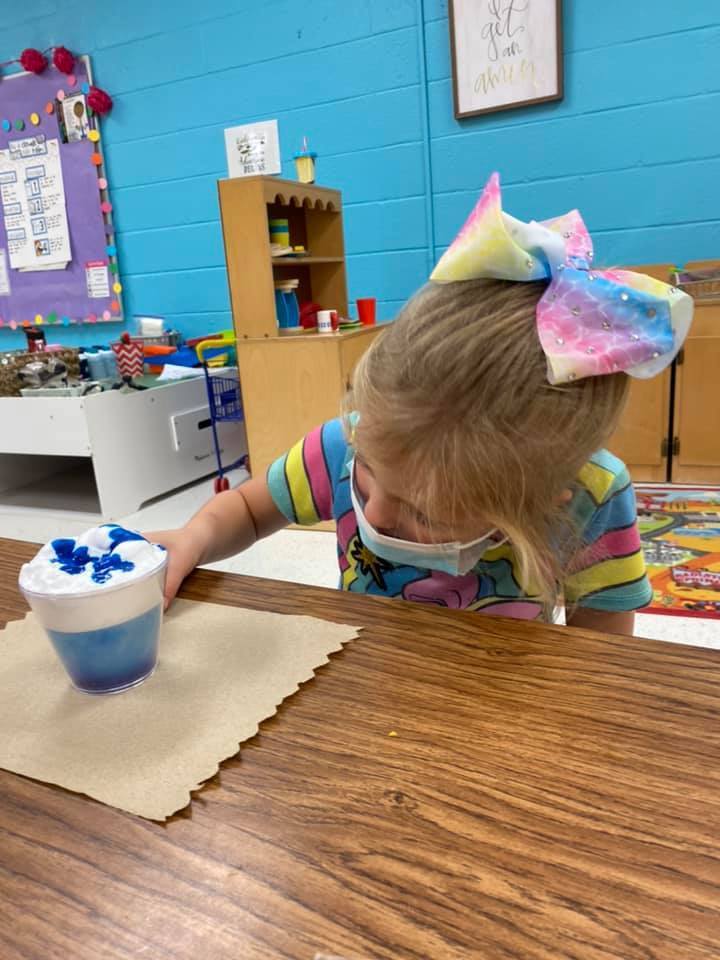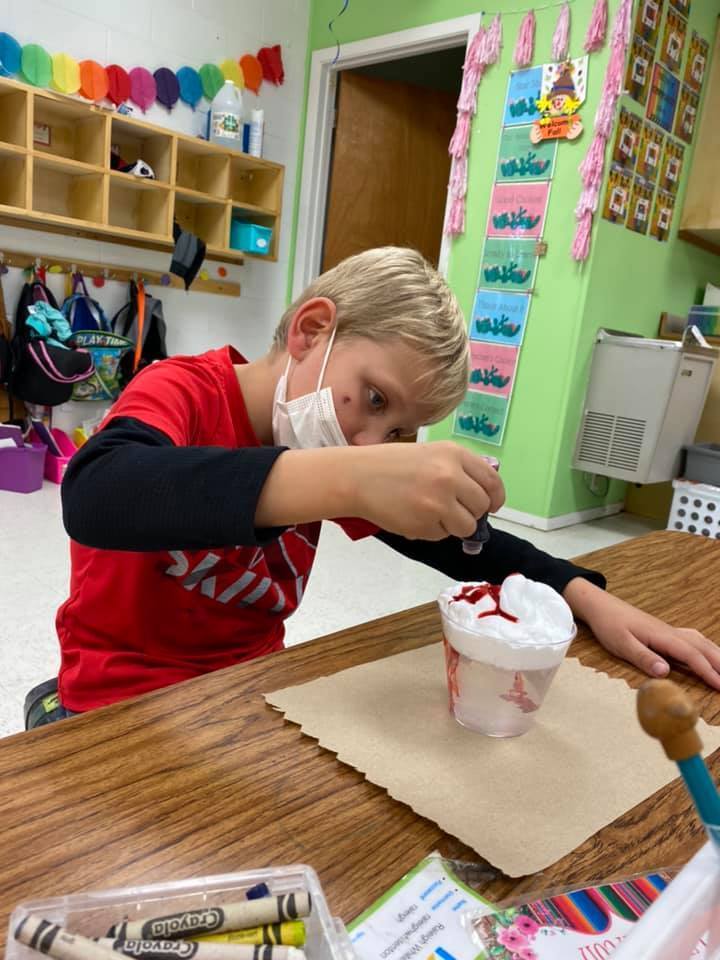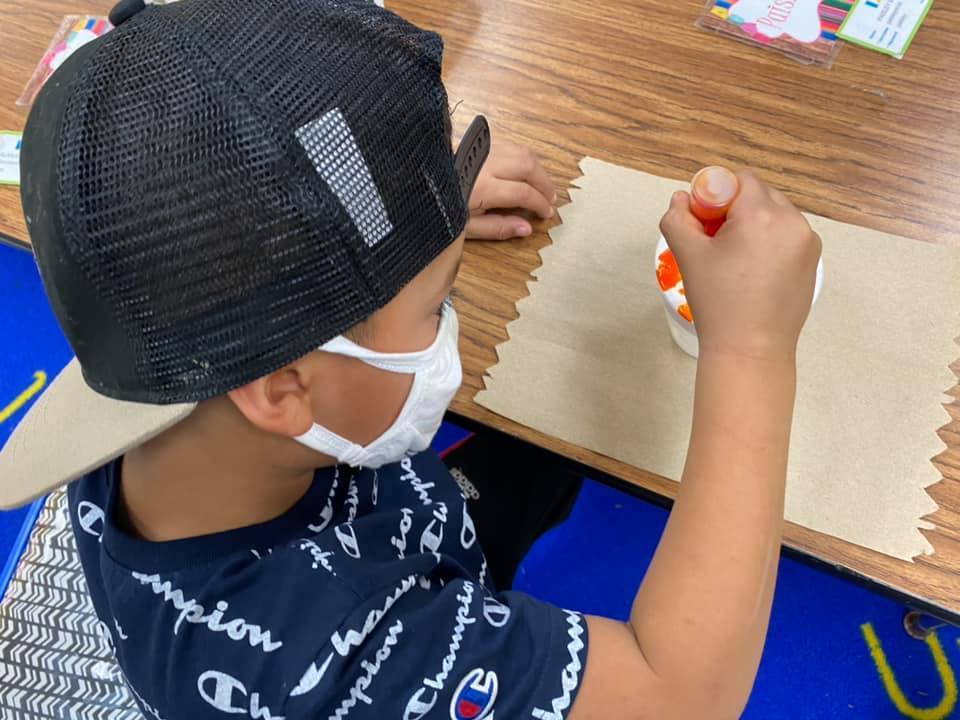 Flu Awareness & Prevention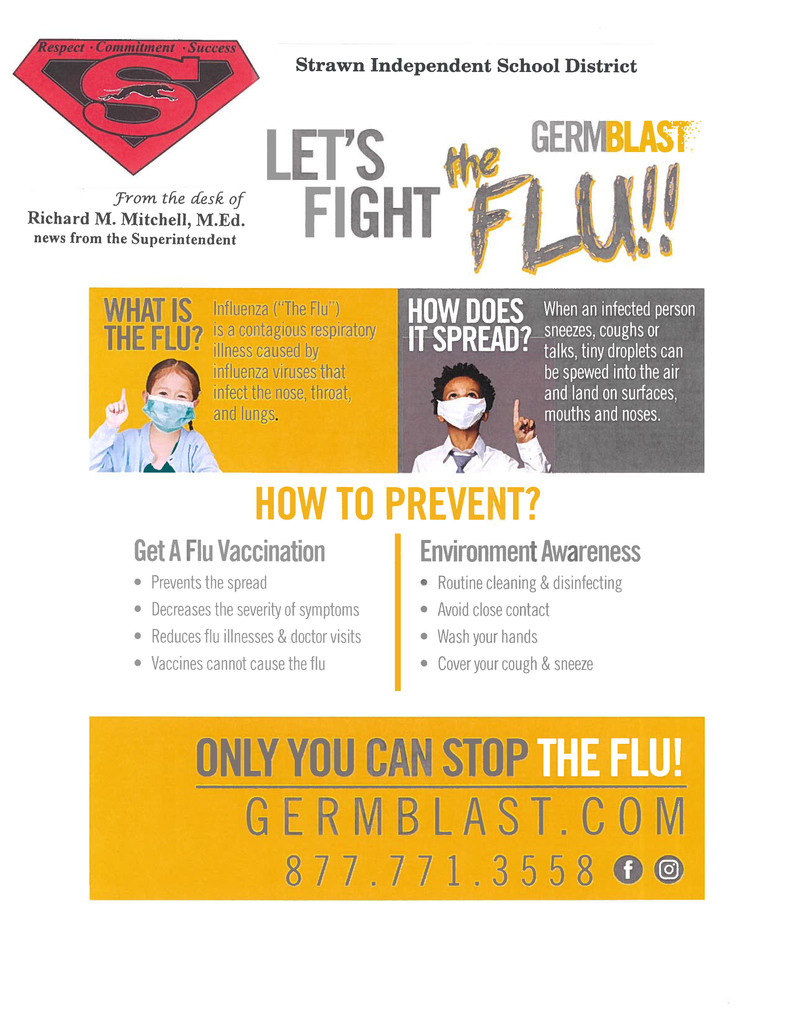 Schedule Change: Tonight's Varsity Lady Hounds basketball game at Woodson, begins at 6:00 PM.

The 2020-2021 Yearbook is now available for pre-order! Cost: $30 - cash, checks payable to Strawn ISD, or order online at ybpay.lifetouch.com with Yearbook ID number: 12471021 Contact Mrs. Ellis with questions! (254) 672-5776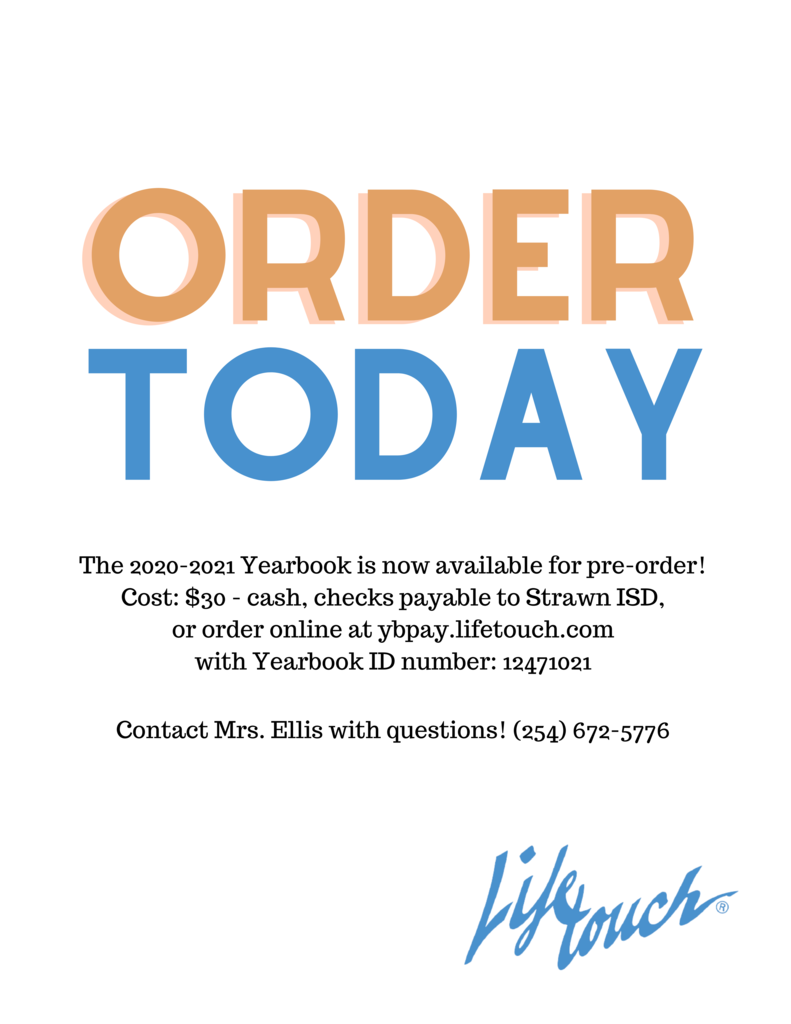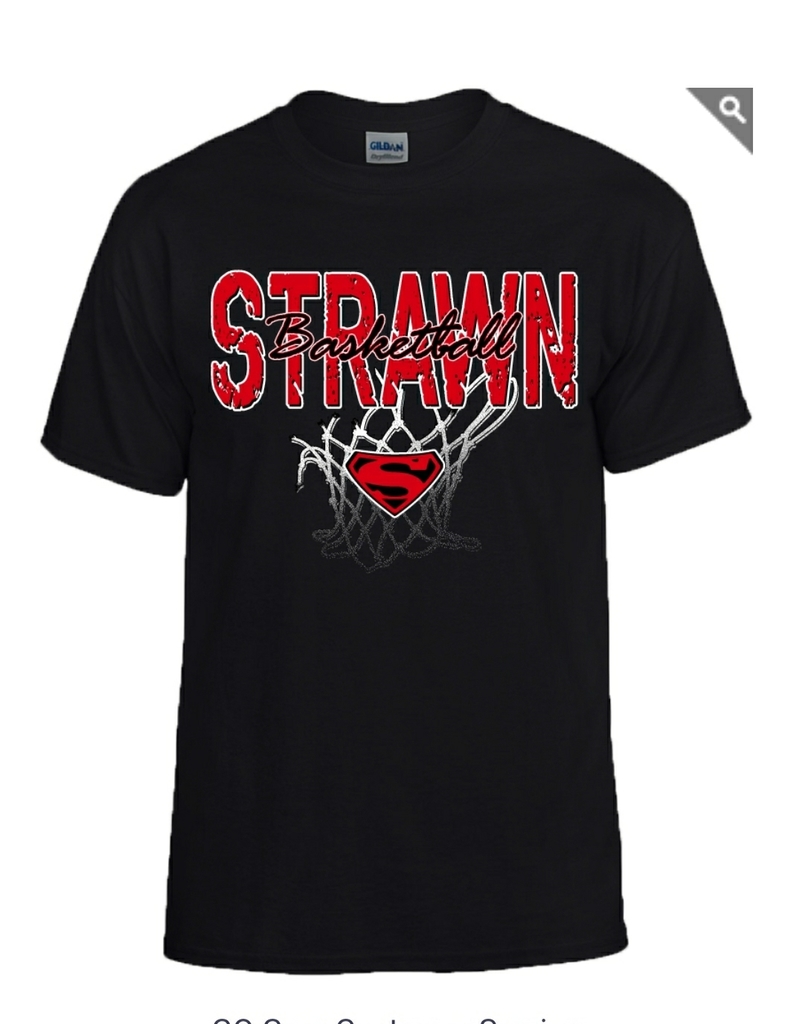 Reminder, the Greyhound Yearbook Class is seeking food donations for our Angel Families to have a hot Christmas meal! Items could include dessert mixes, dressing, canned sweet potatoes, cranberry sauce, canned corn and green beans, fried onions, cream of mushroom soup, and more. Friday will be our last day for collection. Boxes are located by the office for easy no-contact drop-off.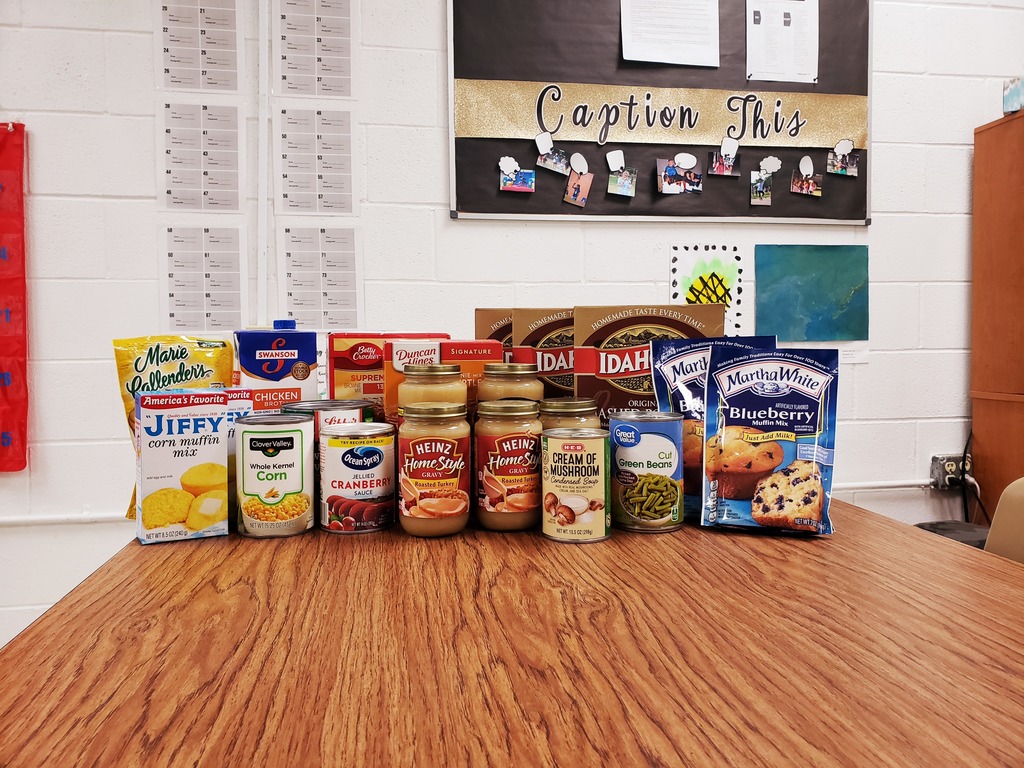 Mrs. Abbott's First and Second Grade math classes made this tree using Tessellations!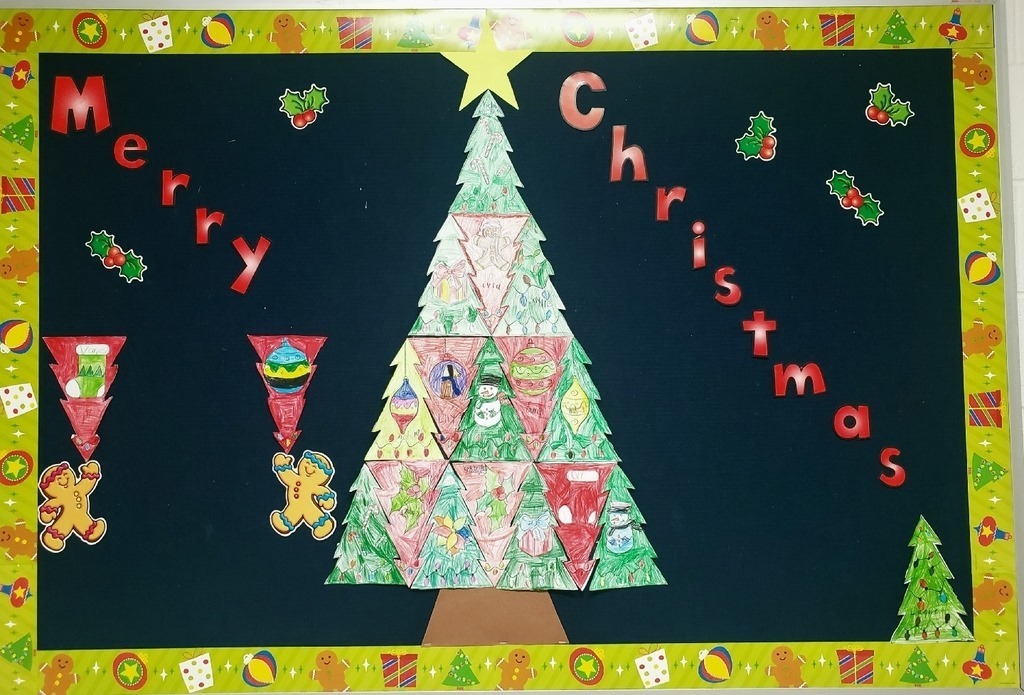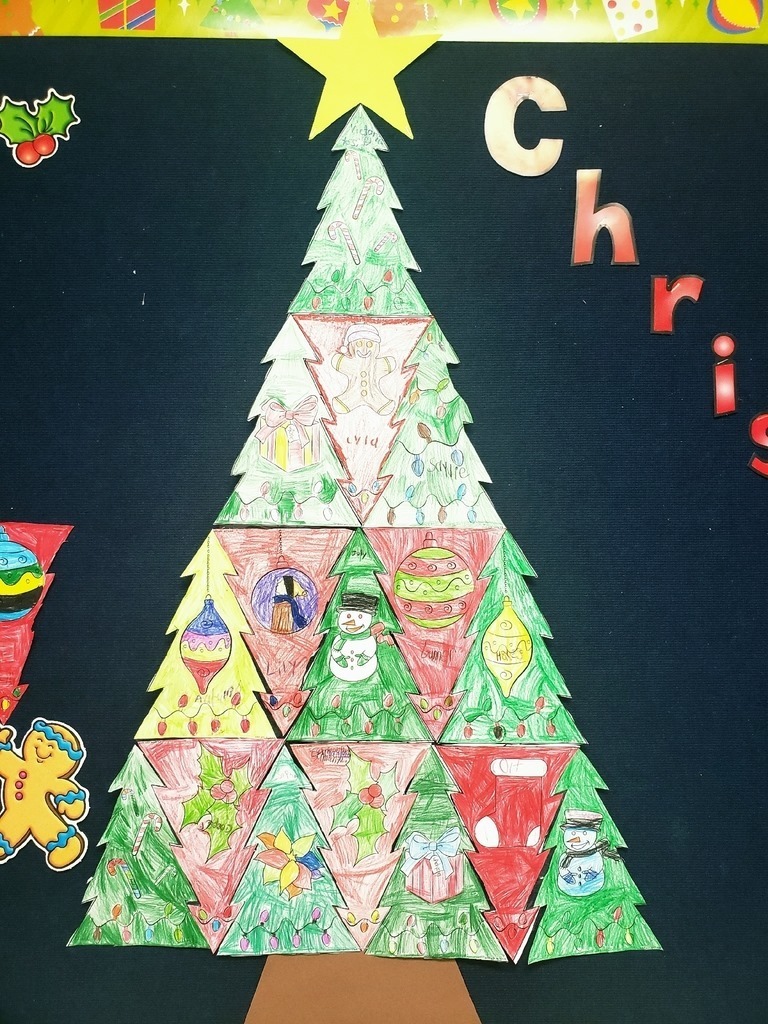 Our Lady Hounds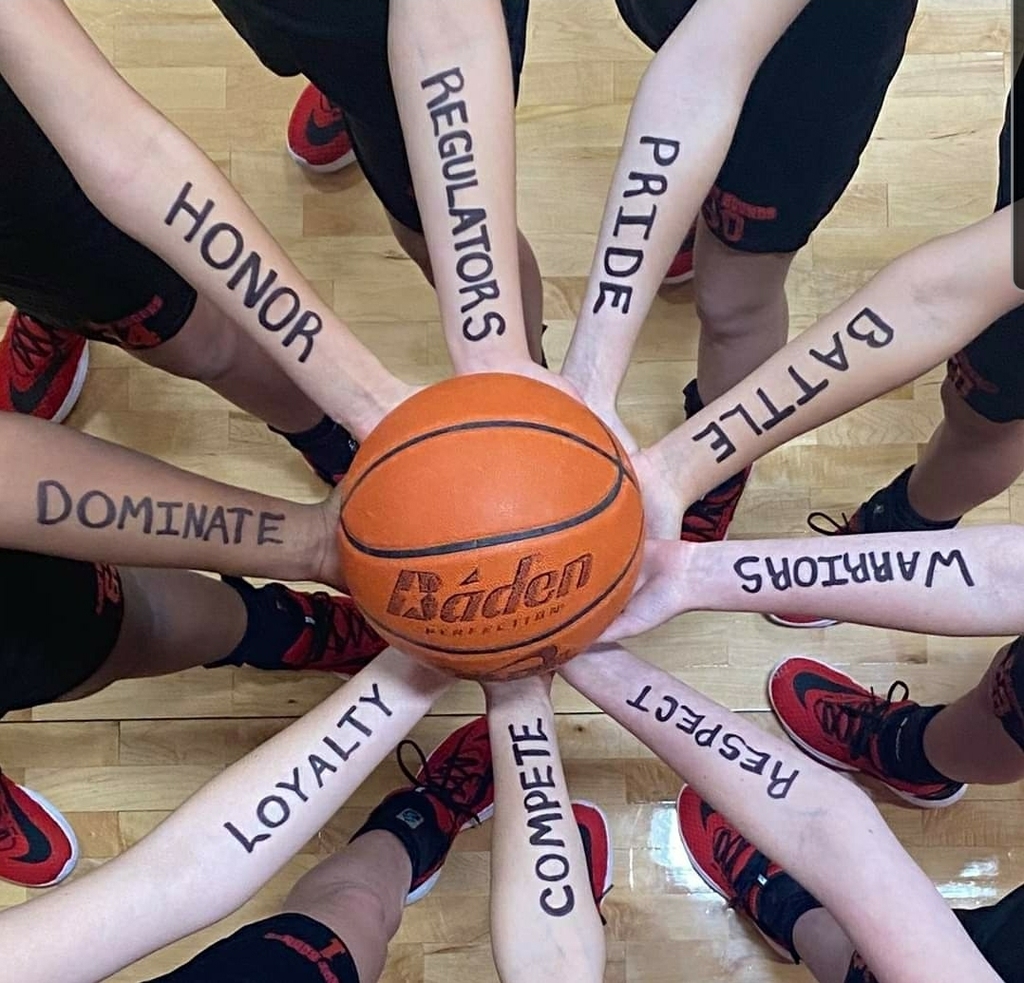 Our festive First Grade students are learning about holidays around the world!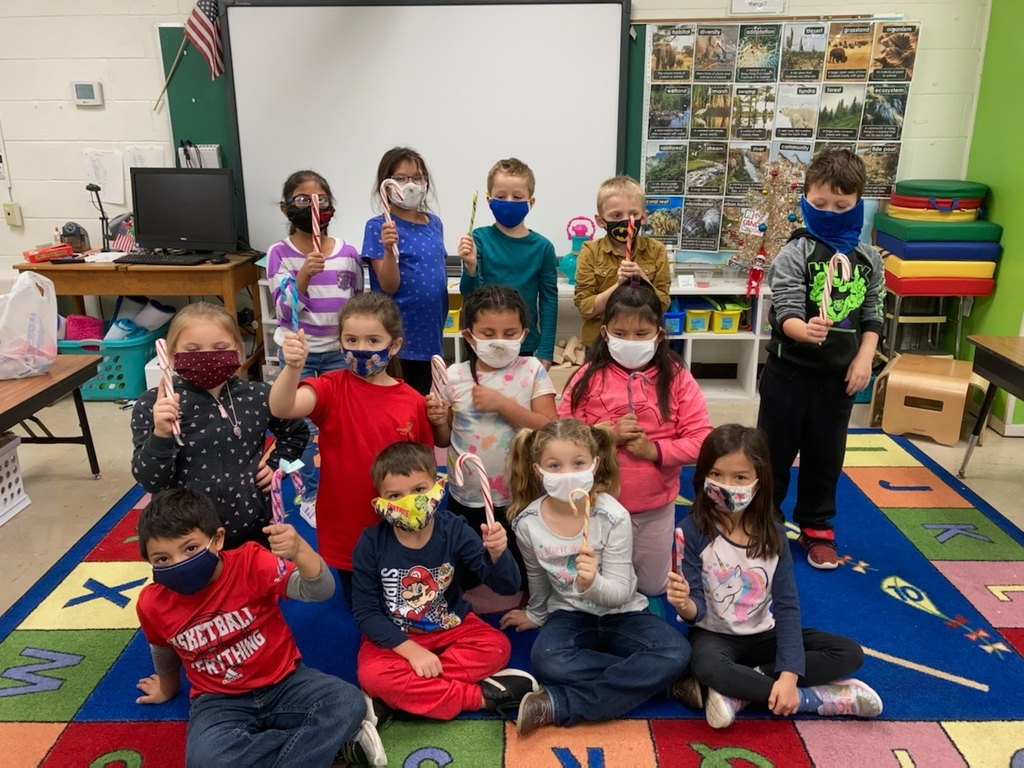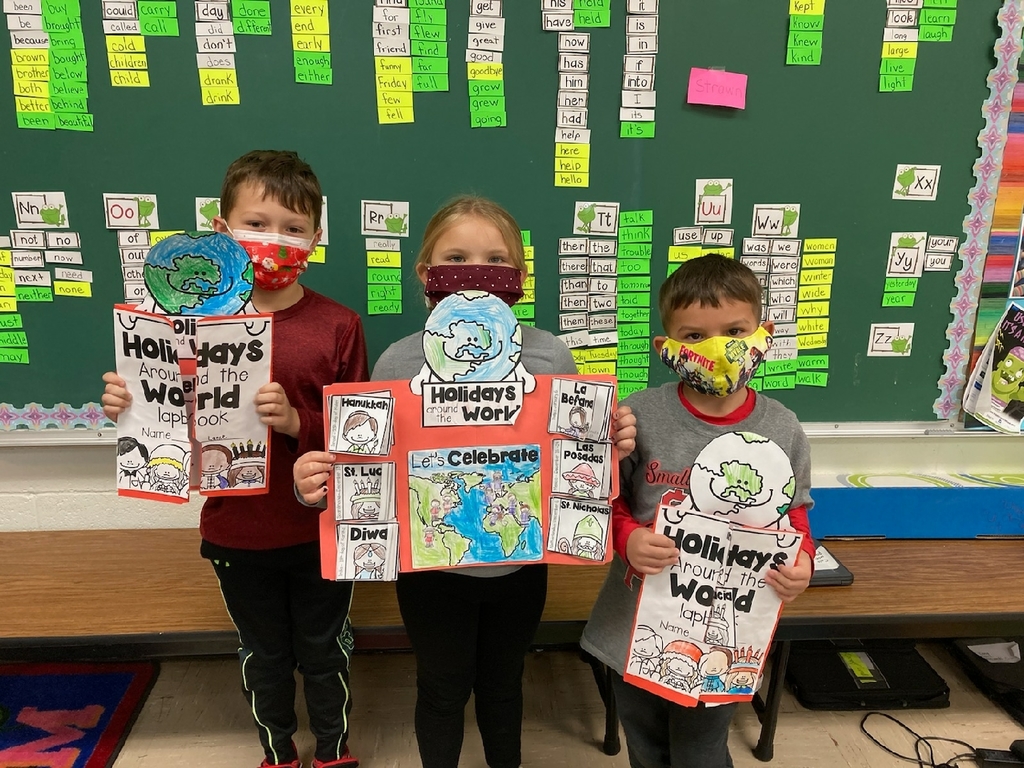 Classroom Christmas Holiday Celebration Guidelines: Due to COVID-19 concerns, only store-bought items will be allowed this year. Also, due to COVID-19 guidelines in place, parent volunteers/visitors will not be used during any classroom parties in order to limit the number of visitors on campus.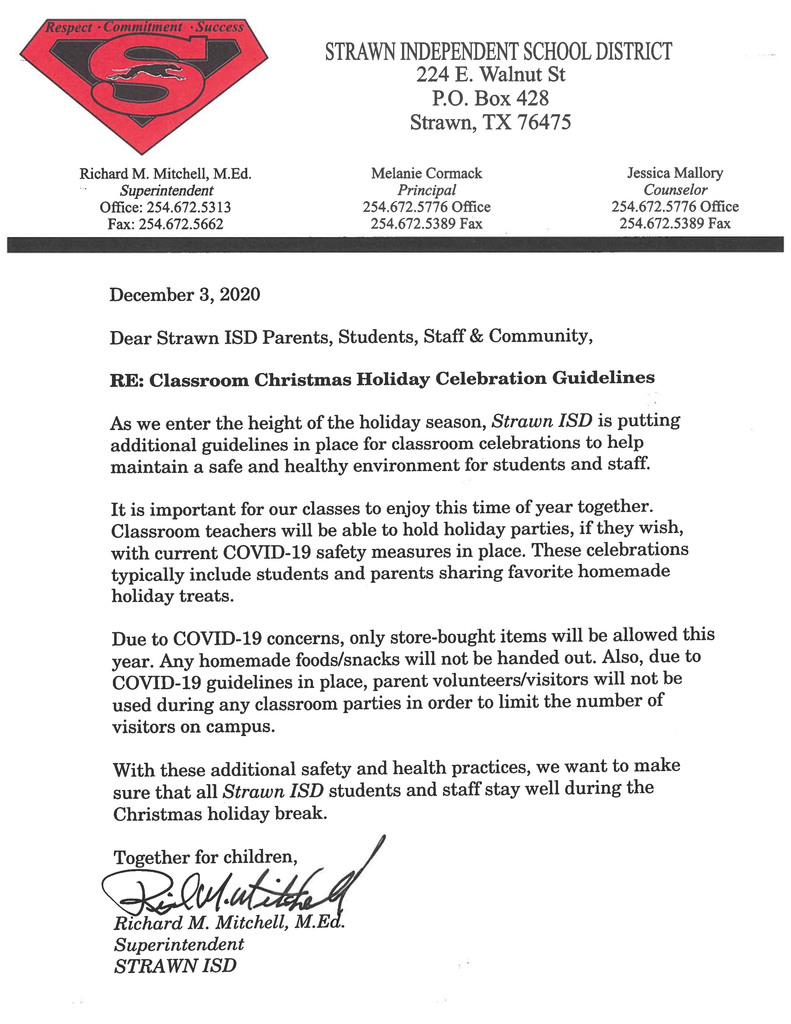 GAME CHANGE: The Varsity Girls basketball game, Friday at Abilene ACS, has been cancelled.

SEMIFINAL GAME: TICKET INFO Strawn will be the Visitors this Friday. Ticket prices will be $6 for adults and $4 for students. Tickets will be sold at the gate.

December begins tomorrow! Here is the menu for the last 3 weeks of the semester, and you can find each day's menu on our website and app under the Dining section! Keep in mind that, through the USDA's extension, all of our students, staff, and community members can eat breakfast and lunch for free through the end of the school year! Community members: If you would like to pick up FREE to-go meals, please e-mail
nmontgomery@strawnschool.net
the night before so our cafeteria staff can have those ready for you. Pick up each weekday is 7:45 AM for breakfast and 10:30 AM for lunch! We look forward to serving you!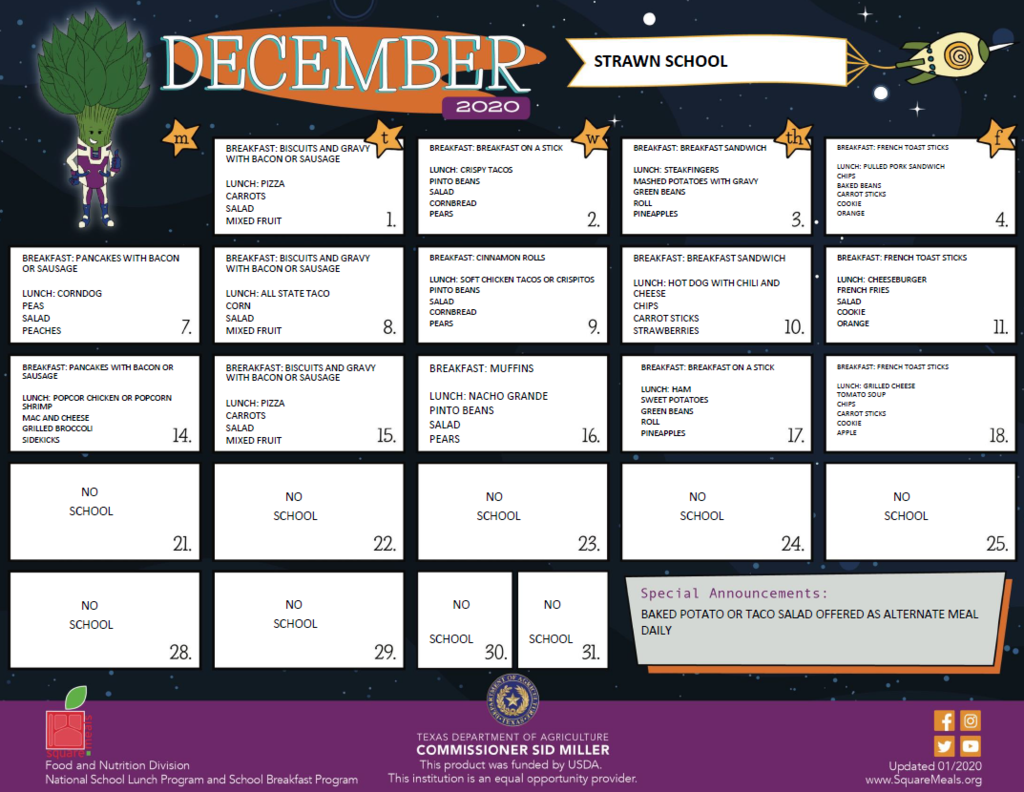 Our Angel Tree Meal Drive boxes are still empty. Please help us fill these with items for our Angel Families to have a hot Christmas meal! Thank you, Strawn FFA & 4-H, for wrapping our collection boxes! We will have these boxes at the doors by our office until Friday, Dec. 11th. That's just 2 more weeks!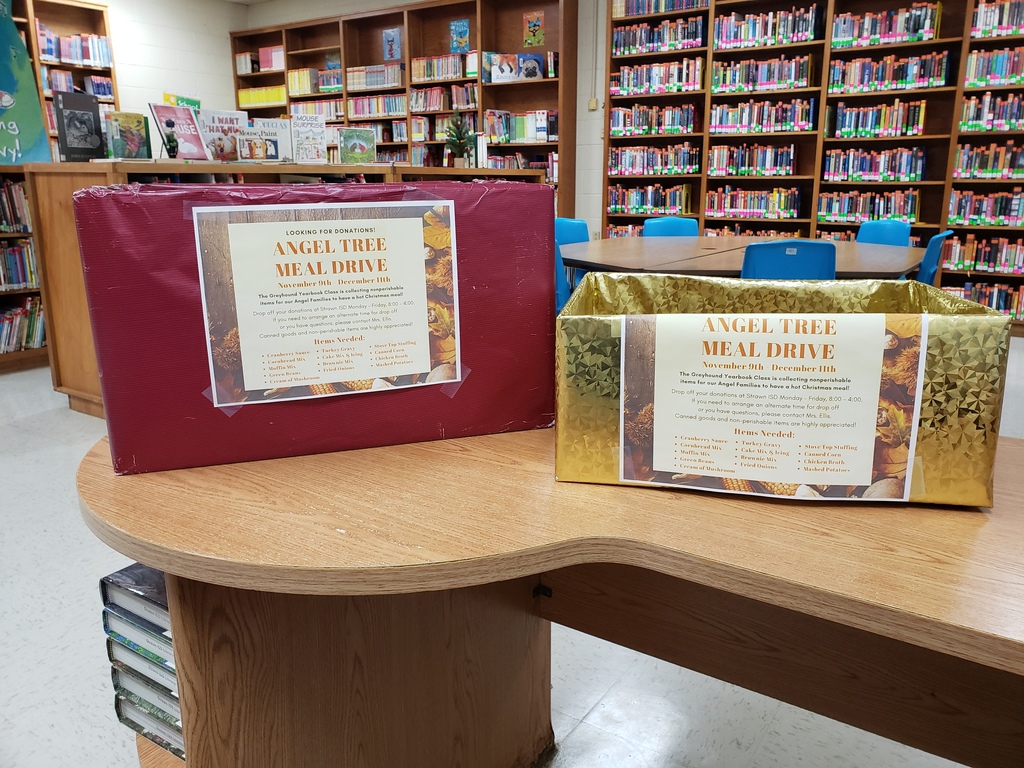 Friday, Dec. 4th, 6:30PM SEMIFINALS @ Dublin Strawn vs. Richland Springs

For Friday's playoff football game, the tickets will be sold at the gate.

Quarterfinals! Strawn vs. Fannindel Friday, 6:30 PM @ Italy, Texas

Good luck to our Hounds tonight as they take on Throckmorton! We are proud of you and are rooting you on - whether in-person or from a distance! We love our Greyhounds!

Kindergarten is thankful for some of the sweetest things!